U.S. Law Enforcement Intercepted Cell Phone Tower Data 9,000 Times in One Year
Tuesday, December 10, 2013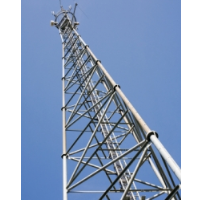 The National Security Agency (NSA) is not the only government agency collecting large volumes of information about Americans' cell phone calls. Law enforcement has been gathering and storing thousands of records from cell phone towers, all data belonging to innocent people as well as suspected criminals.
Last year alone, police made more than 9,000 requests for so-called "tower dumps," which consist of information on all calls bouncing off a cellphone tower within a certain period of time.
With this information, law enforcement can track people's movements, which is why some federal judges, lawmakers and privacy advocates are questioning the practice.
"This isn't the NSA asking for information," Senator Edward Markey (D-Massachusetts) told The Washington Post. "It's your neighborhood police department requesting your mobile phone data. So there are serious questions about how law enforcement handles the information of innocent people swept up in these digital dragnets."
After investigating eight cellphone companies, Markey found that information provided to police includes other records as well, like GPS location data, website addresses and search terms entered into cellphone browsers.
Markey plans to introduce legislation to restrict law enforcement's use of consumers' phone data and limit the scope of tower dumps. His reform bill would require police to obtain a warrant in order to collect GPS location data. It also would limit how long carriers can keep customers' phone data, and require regular disclosures by law enforcement agencies on the nature and volume of requests they make of carriers.
But the proposal would not require a warrant for tower dumps.
-Noel Brinkerhoff
To Learn More:
Agencies Collected Data on Americans' Cellphone Use in Thousands of 'Tower Dumps' (by Ellen Nakashima, Washington Post)
Cops and Feds Routinely 'Dump' Cell Towers to Track Everyone Nearby (by David Kravets, Wired)
Responses Received from Wireless Carriers on Law Enforcement Requests (Senator Edward Markey)
NSA Can Track Every Cell Phone in the World, Collects 5 Billion Records per Day (by Noel Brinkerhoff, AllGov)
Obama Justice Department Claims Cell-Site Records Not Protected by 4th Amendment (AllGov)