Local Police Departments Use Non-Disclosure Agreements to Hide Cellphone Tracking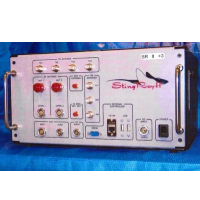 Harris Corporation's StingRay (photo: U.S. Patent and Trademark Office)
Law enforcement agencies from one end of the U.S. to the other are investing in sophisticated cellphone tracking equipment that requires them to not tell anyone—including local courts and judges—about the technology.
Manufactured by Harris Corporation based in Florida, the equipment—which looks like a cell tower—goes by a variety of names: StingRay, HailStorm, Harpoon, AmberJack, KingFish and RayFish.
Police in the Sunshine State and in Arizona have invested in Harris' tracking equipment. But the equipment is technically on loan from Harris, so agencies must sign nondisclosure agreements that state they can use the spy technology only as long as they keep it a secret from outside parties, including the judicial system, according to Candice Bernd of Truthout.
The technology allows police to capture a suspect's cellphone's unique information, traffic data, and location. Some are fearful the systems could be used to target individuals or groups involved in political dissent.
It appears those fears are valid. Law enforcement agencies have used the equipment to gather information about protesters at the 2012 Republican convention in Tampa and the Occupy Wall Street protest at Zuccotti Park in New York City.
The technology also makes it easy to sweep up the cellphone information of innocent citizens.
Nathan Freed Wessler, a staff attorney with the American Civil Liberties Union (ACLU), says the deals between police departments and Harris pose serious concerns.
"[The Harris Corporation] seems to be trying to prevent [police departments] from talking about how these devices are used in investigations, about things like whether they are getting warrants for them or not, or what they think the legal policy limitations on their use should be, all these kinds of questions that are absolutely fundamental issues of digital law, public policy and good governance," Wessler told Truthout.
The technology is so important that police in some instances have bypassed getting a warrant for a suspect because that would have meant going to court and disclosing the equipment's use, which would have violated the agreement with Harris.
-Noel Brinkerhoff
To Learn More:
The NSA Comes Home: Police Departments Conceal Phone Tracking Equipment from Courts (by Candice Bernd, Truthout)
Federal Judges Clash with Law Enforcement over Cellphone and Email Data Requests (by Noel Brinkerhoff and Steve Straehley, AllGov)
U.S. Law Enforcement Intercepted Cell Phone Tower Data 9,000 Times in One Year (by Noel Brinkerhoff, AllGov)