Texas Family Wins First Jury Award for Health Damages from Fracking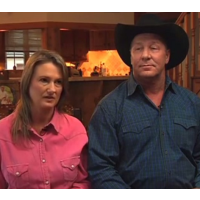 Lisa and Bob Parr (photo: YouTube)
Owners of a North Texas ranch have become the first individuals in the country to successfully sue the natural gas industry over the use of fracking, which they claimed caused serious health problems for their family and their animals.
Bob and Lisa Parr of Decatur won a $3 million award in a Dallas County court after a six-person jury agreed that the plaintiffs were harmed by the fracking operations of Aruba Petroleum.
The Parrs said the company's drilling near their 40-acre ranch caused illnesses that afflicted them and their daughter, as well as pets and livestock, including asthma, nausea, nose bleeds, ear ringing and depression. They even had to abandon their home at times because of the troubles.
Aruba's drill site was one of a hundred in the area, located above the gas-rich Barnett Shale. The company's attorneys said the decision to find them responsible for the Parrs' claims was arbitrary.
"How do you determine which well caused what, if any, damages," Ben Barron, one of the attorneys representing Aruba in the case, told the Dallas Morning News.
But Aruba was not the only company sued by the Parrs. The lawsuit, first filed in 2011, also named Encana Oil & Gas of Canada as a defendant. Encana previously settled out of court with the family for an undisclosed sum.
Aruba, which has not said if it will appeal the ruling, claimed emissions from its fracking wells did not exceed Texas air pollution standards. But it was revealed that the Texas Commission on Environmental Quality leveled fines totaling about $40,000 on Aruba for air quality violations in Wise County, where the Parrs' ranch is located.
The verdict, called the first of its kind involving a jury against fracking, may get the attention of other drillers, according to Larry Nettles, an attorney with Vinson & Elkins in Houston.
"I don't think this is going to be damaging to the industry. But it is a warning to operators they need to exercise caution when running operations near homesteads," Nettles told the Morning News.
-Noel Brinkerhoff
To Learn More:
Wise County Couple Gets $3 Million in Fracking Suit (by James Osborne, Dallas Morning News)
Jury Awards Texas Family Nearly $3 Million in Fracking Case (by Jenny Deam, Los Angeles Times)
Fracking Challenge Leads to $3M Jury Verdict (by David Lee, Courthouse News Service)
Lisa Parr v. Aruba Petroleum (Dallas County Court) (pdf)
Chevron Offered Free Pizza to Help Make Up for its Fracking Well Explosion in Pennsylvania Town (by Noel Brinkerhoff, AllGov)
Fracking Companies Buy Silence of Families with Contaminated Water (by Noel Brinkerhoff, AllGov)