Sale of Post Office Properties Ignored Historical Importance
Wednesday, April 23, 2014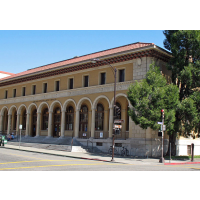 Historic Berkeley, CA. post office and its New Deal art are to be sold (photo: Sanfranman59)
As mandated by Congress, the U.S. Postal Service (USPS) has been selling off many of its properties, including post office buildings, to help reduce its budgetary problems. But USPS officials failed to abide by federal regulations governing the preservation of historic public property while carrying out sales of important structures and art.
As of last June, the Postal Service had sold 22 historic properties during a period of two-and-a-half years, according to the agency's Office of Inspector General (IG). At that time, officials planned to put another 25 historic properties up for sale, as well as another 28 for future consideration.
In going over USPS records and policies, the IG found the Postal Service "did not know how many historic properties it owned or what it cost to preserve them," as required under the National Historic Preservation Act (pdf) (NHPA).
The agency also failed to notify the National Museum of American Art, per its own rules, when selling properties that have works of art dating back to the New Deal.
"The Postal Service has the authority to dispose of historic properties but must follow certain regulations for preserving their historic features," the IG wrote in its report (pdf). "Additionally, the Postal Service must follow certain regulations for relocating retail services from all properties regardless of whether or not the property is historic."
The report mentions that these sales are handled not by the agency, but by a contractor, C.B. Richard Ellis (CBRE). But it fails to mention the significance of who is behind CBRE: Chairman Richard Blum, husband of Senator Dianne Feinstein (D-California).
CBRE has come under criticism for its handling of USPS property sales.
Journalist Peter Byrne wrote in his book Going Postal that 20% of the USPS portfolio was sold to business partners or clients of CBRE, while it took up to a 6% commission in 34 of the 52 transactions.
Also, CBRE appeared to act as an agent for both the Postal Service and buyers in many of the transactions, contrary to customary property sales.
-Noel Brinkerhoff
To Learn More:
Preservation and Disposal of Historic Properties (U.S. Postal Service Inspector General) (pdf)
Legislation Offers Hope that Historical Berkeley Post Office Won't be Part of Nationwide Selloff (by Ken Broder, AllGov California)
Sen. Feinstein's Husband Reaps Profits from Post Office Closings (by Ken Broder, AllGov California)