Sanctions against Russia? Don't Tell ExxonMobil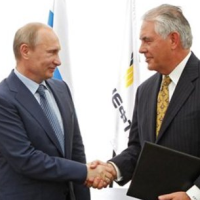 Vladimir Putin and ExxonMobil CEO Rex Tillerson June 15, 2012 (photo: Mikhail Klimentyev, Presidential Press Service, AP Photo/RIA-Novosti)
Imposing sanctions against Russia for its takeover of Crimea would not sit well with ExxonMobil, the United States' largest oil corporation.
ExxonMobil may be based in the U.S., but that doesn't mean it's an American company, not in the sense that its interests and those of the nation coincide. Sometimes they might have shared interests, but in the case of Russia's power play in Ukraine, ExxonMobil has far too much invested in America's former Cold War nemesis to see the U.S. government led by President Barack Obama get in its way of making money.
While the White House searches for ways to punish Vladimir Putin for annexing Crimea, it's business as usual for ExxonMobil inside Russia.
Two years ago, the "American" oil giant signed a lucrative deal with Rosneft, Russia's petrochemical behemoth, to jointly explore offshore oil and gas in the Kara Sea in the Arctic Ocean and the Black Sea, where the Crimean peninsula is. As part of the agreement, Rosneft acquired a 30% stake in 20 ExxonMobil offshore oil and gas exploration blocks in the Gulf of Mexico.
That arrangement has not been compromised by the Ukraine crisis, according to The Wall Street Journal.
"There has been no impact on any of our plans or activities [in Russia] at this point, nor would I expect there to be any, barring governments taking steps that are beyond our control," ExxonMobil CEO Rex Tillerson said. The company has put on hold plans for exploration in Ukraine's part of the Black Sea, however.
The company's intention to keep pushing ahead in the Russian Arctic demonstrates that its international affairs can be entirely separate, if not counterproductive to, the priorities of Washington, D.C.
Or as the Washington Monthly put it in 2012: "The clout, reach, and mission of ExxonMobil mean that it runs what amounts to its own foreign policy, raising the question of how that policy relates to the foreign policy of the United States."
An even more telling blast-from-the-past was cited in Steve Coll's book Private Empire. The ExxonMobil tell-all replays a conversation that the former CEO, Lee Raymond, had with another businessman:
Once, at an industry meeting in Washington, an executive present asked Raymond whether Exxon might build more refineries inside the United States, to help protect the country against potential gasoline shortages.
"Why would I want to do that?" Raymond asked, as the executive recalled it.
"Because the United States needs it...for security," the executive replied.
"I'm not a U.S. company and I don't make decisions based on what's good for the U.S.", Raymond said.
-Noel Brinkerhoff
To Learn More:
Does Exxon Love Putin More Than U.S.? (by Kert Davies, Climate Investigations Center)
Why ExxonMobil's Partnerships With Russia's Rosneft Challenge the Narrative of U.S. Exports As Energy Weapon (by Steve Horn, DeSmogBlog.com)
Exxon Exports Fracking to Russia…and Opens Gulf of Mexico to Russians (by David Wallechinsky and Noel Brinkerhoff, AllGov)
Exxon CEO Joins Lawsuit to Block Water Tower Used for Fracking near His Home (by Danny Biederman and Noel Brinkerhoff, AllGov)