Duke Energy CEO Wants Customers to Pay for Pollution Pond Cleanups
Wednesday, March 12, 2014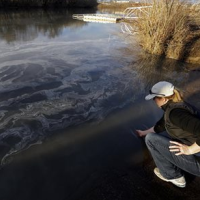 Dan River contaminated by coal ash from Duke Energy spill (photo- Gerry Broome, AP)
North Carolina's leading utility company has responded to the governor's call for moving its toxic coal-ash ponds away from lakes and rivers with the message: We're not paying for it.
The relocation issue comes on the heels of a massive spill in February from one of Duke Energy's power plants that sent at least 80,000 tons of coal ash into the Dan River, which flows between Virginia and North Carolina.
While the cleanup of that disaster continues, Republican Governor Pat McCrory—who has received more than $1 million in campaign donations from Duke Energy, where he once served as an executive—has told the utility to explore ways of moving its ponds, which could cost $1 billion.
Duke Energy said in response that North Carolina ratepayers would have to foot the bill for such work.
Executives added that the utility would pay for the Dan River mess.
"Ash pond closure has been a plan for a very long time," Lynn Good, CEO of Duke Energy, told the Charlotte Observer. "And because that ash was created over decades for the generation of electricity, we do believe that ash pond disposal costs are ultimately a part of our cost structure."
Good also said that the decision of who pays for moving the ponds will ultimately rest with the North Carolina Utilities Commission.
But it's clear that Duke Energy intends to lobby the commission, which has authorized utilities to recover "prudent" capital costs by hiking customers' electric bills.
Shifting the financial burden to residents does not sit well with state Attorney General Roy Cooper, who opposed recent rate hikes by Duke.
"Duke Energy should clean up the coal ash at its own expense, and we will fight for consumers if the company tries to charge them," Cooper said in a statement.
D. J. Gerken, a lawyer for the Southern Environmental Law Center, agrees with Cooper.
"Duke has profited from doing the cheapest thing for decades, and it's now time for them to pay the bill," Gerken told the News & Observer.
Duke is expected to be allowed to "recover costs related to environmental compliance investments," said the company's chief financial officer, Steve Young. However, such "cost recovery" actually means that "North Carolina will allow Duke to raise energy prices to cover the cost of environmental clean-up instead of taking it out of shareholder profits," explained Raw Story's David Edwards.
-Noel Brinkerhoff
To Learn More:
Duke CEO: Customers Should Pay Ash Pond Costs (by Bruce Henderson, Charlotte Observer)
Duke Energy's $1 Billion Cleanup: Who Would Pay? (by John Murawski, News & Observer)
NC Cuts 13 Percent of Water Protection Agency Only Weeks after Massive Coal Ash Spill (by David Edwards, Raw Story)
EPA Finally Agrees to Regulate Coal Ash (by Noel Brinkerhoff, AllGov)
Exasperated by EPA Inaction, Residents near Coal Ash Dumps File Lawsuits (by Noel Brinkerhoff and David Wallechinsky, AllGov)
Which Companies Helped Fund the Democratic and Republican Conventions? (by Noel Brinkerhoff, AllGov)