Exasperated by EPA Inaction, Residents near Coal Ash Dumps File Lawsuits
Monday, February 25, 2013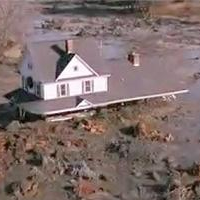 Coal ash spill in Tennessee
Residents in at least a handful of states are separately suing energy companies for allowing coal waste to pollute streams, lakes and rivers. Coal ash, a euphemism for the solid waste produced by coal-burning power plants, contains arsenic, barium, boron, beryllium, cadmium, chromium, lead, mercury, molybdenum, nickel, selenium and thallium, which have been linked to cancer, birth defects, digestive illnesses, reproductive conditions, and other health problems.
Many of the plaintiffs have claimed they have no choice but to take legal action against polluters because the U.S. Environmental Protection Agency (EPA) has refused to act. In June 2010, EPA presented two proposals for dealing with coal ash; one would classify it as "hazardous" and the other as "non-hazardous." More than two and a half years later, the agency has yet to make a choice. According to government figures, there are 1,161 coal ash ponds and landfills in the United States.
In Pennsylvania, about 200 residents joined together to sue FirstEnergy Corp. over the nation's largest coal ash pond, Little Blue Run, which straddles the Pennsylvania, West Virginia and Ohio state lines.
In addition to the Little Blue Regional Action Group, residents in Montana, Georgia and South Carolina have sued energy providers for disposing of coal ash into ponds, landfills and pits.
Environmentalists have pleaded with the EPA to revise its rules governing coal ash disposal, which have not changed since 2000. In April 2012, a coalition of eleven environmental advocacy groups sued EPA over its failure to issue regulations overseeing coal ash.
"We've seen a real uptick in legal actions over coal ash in the vacuum left by EPA," Lisa Evans, an Earthjustice lawyer suing the agency, told The Center for Public Integrity. "Despite inaction on the part of EPA, the damage keeps mounting."
Another attorney, Lisa Widawsky, who is helping to represent the Little Blue Run plaintiffs, said: "What we need is federal rules. Until then, we'll use whatever tools we've got."
-Noel Brinkerhoff, David Wallechinsky
To Learn More:
As EPA Delays New Coal Ash Rules, Residents Turn To The Courts For Relief (by Kristen Lombardi, Center for Public Integrity)
EPA Sued over Refusal to Regulate Coal Ash (by Matt Bewig, AllGov)
EPA Ignored Possible Health Risks of Using Coal Waste for Construction (by Noel Brinkerhoff, AllGov)