Tech Firms' Release of NSA Data Request Totals is Limited by Gag Orders
Thursday, February 06, 2014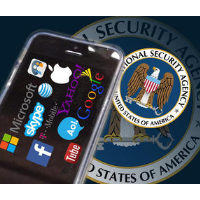 (AP graphic)
Last year's media revelations about National Security Agency (NSA) spying did nothing to shrink the agency's appetite for information on Americans' personal communications.
Many of the nation's top technology companies revealed this week that the NSA made requests for data from nearly 60,000 private users during the first six months of 2013.
Yahoo! received the highest number of requests (30,000), followed by Microsoft (15,000), Google (9,000), Facebook (5,000), and LinkedIn (250).
The companies were limited in what they could disclose due to federal gag orders imposed by the NSA. They were unable to release the specific number of NSA requests and could only report their totals in ranges of 1,000.
Another restriction on making the NSA requests public is a six-month delay mandated by the federal government, which was why the figures only covered the first half of last year. The companies were permitted to release figures from prior years and some took advantage of this rule.
Google said NSA requests affected fewer than 3,000 user accounts in the first half of 2009. But the total for the second half of 2012 was considerably higher: 12,000 accounts. Microsoft reported 11,000 user accounts were affected by the surveillance requests in late 2011.
The release of this information "creates some good headlines for tech companies who were on the defense in the wake of leaks from former National Security Agency contractor Edward Snowden," wrote Andrea Peterson in a Washington Post opinion piece. "But that's all transparency reports produced by tech companies are about: good PR. These transparency reports are better than nothing, but they don't represent a meaningful way to measure the true scope of governments' access to private data."
"It is commendable that the companies pressed the government for more openness, but even more is needed," American Civil Liberties Union National Security Project staff attorney Alex Abdo told the Post. "Congress should require the government to publish basic information about the full extent of its surveillance, including the significant amount of spying that happens without the tech companies' involvement."
This includes NSA surveillance on the links between Google and Yahoo! data centers, providing the spy agency with, potentially, a vast reservoir of user information without the tech firms' knowledge.
-Noel Brinkerhoff, Danny Biederman
To Learn More:
Tech Companies Say Tens of Thousands of User Accounts Were Subject to National Security Spying (by Timothy B. Lee, Washington Post)
Here's Why Tech Companies' NSA 'Transparency Reports' Aare Mostly a PR Stunt (by Andrea Peterson, Washington Post)
Major Tech Firms, Fearing Loss of Profits, Call for Reform of Government Surveillance; Obama Hedges (by Noel Brinkerhoff and Danny Biederman, AllGov)
Microsoft and Google Team to Sue Obama Administration to Release Surveillance Information (by Noel Brinkerhoff, AllGov)
Tech Companies Wrestle with U.S. Government over Disclosure of Data Requests (by Noel Brinkerhoff and Danny Biederman, AllGov)