Ambassador to Austria: Who Is Alexa Wesner?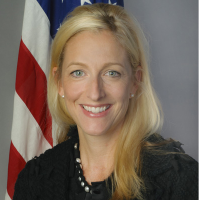 The new ambassador to Austria is a former track star and current triathlete who became a successful businesswoman in Austin, Texas, and a major campaign donation bundler for President Barack Obama. Nominated by Obama on July 27, Alexa L. Wesner was confirmed by the Senate on August 1. She succeeded William C. Eacho, who had served in Vienna since September 2009.
Born Alexa Lange in Washington, DC, circa 1972, she grew up in Reston, Virginia, the daughter of immigrant parents Bridgette (Germany) and Per (Latvia). She graduated Herndon High School in 1990, where she was an all-American in track and cross-country, ranking second in the nation in both the 1600 and 3200 meters. She was the 1988 3200-meter AAA state track champion, 1989 AAA state cross-country runner-up, and 1989 third place finisher at the FootLocker National Southeast regional cross-country tournament. She also finished third at the Penn Relays in 1988, qualified for nationals in cross-country in 1989, and placed fifth at both the 1988 and 1989 National meet.
High School teammate Skye Eddy—a track star and collegiate all-American soccer player—remembered Wesner as free-spirited. "We called her 'Go-Go Lexa' and I'm not sure if that was because she kept 'go going' around the track or because her mind never stopped."
Wesner earned a B.A. in Biology at Stanford University in 1994. Instead of staying on pace to graduate in three years, she took time off to go back to Reston to figure out if she wanted to go to medical school. She worked at George Washington Hospital and Merrill Lynch, and then returned to Stanford and graduated.
Wesner moved to Austin five days after graduation to join Trilogy Software, a high-tech start-up venture, first as director of recruiting and then as a director of marketing. In 1997 she founded HireTECH, a recruiting and consulting company focused on high tech start-ups like Trilogy, and in 2000 she started a web-based recruiting company called Recruiting Labs.
Wesner got back into competitive athletics in 1997, when she decided to "try the triathlon because it would mix things up." She won the 1999 Texas Triathlon, the 2002 Austin Distance Challenge, the 2000 and 2003 Reston Triathlon, and qualified for the 2003 U.S. Triathlon Association's Amateur National team. She would have competed in the World Championship competition had she not decided to start a family with her husband, venture capitalist Blaine Wesner.
Politically progressive, Wesner has donated about $300,000 to Democratic candidates and organizations, including more than $148,000 to the Democratic National Committee. She was one of Obama's first prominent backers in Texas. Not only did she donate $9,600 to Obama's 2008 and 2012 campaigns, Wesner also acted as a campaign bundler, raising more than $500,000 for each of Obama's presidential runs. In early 2008 she founded a political action committee called Blue Texas that spent nearly $1 million on legislative races that year. She is also the founder of Be One Texas and four other state-based organizations (The Texas Civic Engagement Table, Engage Texas, Progress Texas, and the Texas Research Institute) intended to provide a progressive infrastructure in Texas.
She was appointed to the President's Committee on the Arts and Humanities in 2009, and has served on the boards of Lifeworks, which works with homeless youth; Breakthrough, which helps poor kids find a path to college); Arthouse; the Blanton Museum of Art, and the Austin Film Society.
Alexa Wesner and her husband, Blaine,now a venture capitalist at Austin Ventures, were wed in a lavish ceremony at the ruins of a disused Sonoma Valley winery. They have three young children, Natalie, Tennyson, and Livia.
-Matt Bewig
To Learn More:
The 10 Most Powerful Texas Democrats Who Aren't Elected or Running for Office (by Mike Hailey, Capitol Inside)
Statement before the Senate Foreign Relations Committee (pdf)
Top 100: Alexa Lange, Herndon, Track, 1990: "Go-Go Lexa" Won 1988 State Title after nearly Quitting Running (by BJ Koubaroulis, Sports Connection)