Ambassador to Austria: Who is William Eacho?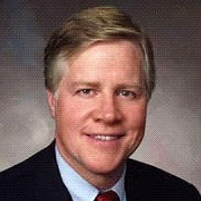 William C. Eacho, III is another important fundraiser for President Barack Obama who has been rewarded with an ambassadorship, this one to Austria. Eacho has spent much of his corporate career working in the food service distribution industry, which included selling his family-owned business to a competitor. He was sworn in as ambassador to Austria on August 14, 2009.
Eacho, 55, graduated magna cum laude from Duke University in 1976, where he majored in law and the economy, a self-designed major combining political science and economics. His undergraduate thesis was on the use of banking regulatory oversight as a tool to influence economic activity.
After graduating from Duke, Eacho went to work as a financial analyst in the corporate finance department of Hornblower & Weeks-Hemphill-Noyes, Inc., in New York, and as an associate with Loeb-Rhoades, Hornblower & Company in Los Angeles.
Eacho then decided to go to graduate school and was accepted into Harvard Business School, where he received his MBA with distinction in 1979.
He eventually joined the family business, Atlantic Food Services in Manassas, Virginia, and rose to become chairman. After helping engineer the sale of the fourth-generation-owned company to Alliant FoodService Inc., Eacho became executive vice president of the $6 billion national food service distributor based in Chicago, with primary responsibility for technology and acquisition strategy.
Eacho was CEO of Carlton Capital Group, LLC, a private investment company focused on real estate and private investments primarily dealing with alternative energy and technology, when he was nominated to become the U.S. ambassador to Austria.
Eacho and his wife Donna have three teenage sons. Donna Eacho has an undergraduate degree from Duke University and a Master in Business Administration from the University of North Carolina at Chapel Hill. Her professional work is in commercial banking, and among other activities, she has served as a judge for the National Capital Business Ethics Awards in Washington, DC, part of a program sponsored by the National Capital Chapter of the Society of Financial Service Professionals.
-Noel Brinkerhoff