Millions of Pounds of Meat Shipped without being Inspected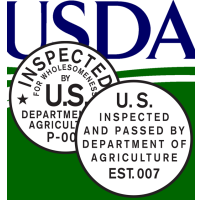 The federal government invested in a new computer system two years ago to help with inspections at meatpacking and processing plants, claiming the move would improve food safety for American consumers. But the $20 million system has been plagued with technical problems, culminating in a complete breakdown earlier this month that resulted in millions of pounds of beef, poultry, pork and lamb being shipped out before inspection.
Officials with the U.S. Department of Agriculture (USDA), which oversees the food inspection system, say government inspectors were unable to use the computer system for two days earlier this month (August 8-9). This led to meat at 6,500 plants going out to stores, restaurants and other locations before it could be checked for E. coli bacteria and other contaminants that can cause food poisoning.
The USDA says despite the computer failure, there have been no reports of tainted meat being sold or eaten.
The new system was set up in 2011, and since then, inspectors at plants have complained about troubles using it. They say the software regularly crashes while trying to input information into the system, causing data to be lost and forcing inspectors to spend extra time filing reports about meat samples.
In addition, the USDA's inspector general reported in March that "glitches with the new computer system led to problems with meat sampling at 18 plants last year," according to Ron Nixon of The New York Times.
Auditors also discovered that inspectors at two plants had not properly sampled a total of 100 million pounds of ground beef for E. coli.
-Noel Brinkerhoff
To Learn More:
Shipping Continued After Computer Inspection System Failed at Meat Plants (by Ron Nixon, New York Times)
Meat Industry Fights New Regulations Requiring Country-of-Origin Labeling and Forbidding Mixing of Meat from Different Countries (by Noel Brinkerhoff, AllGov)
USDA Proposes Privatizing Poultry Inspections (by Noel Brinkerhoff, AllGov)