Meat Industry Fights New Regulations Requiring Country-of-Origin Labeling and Forbidding Mixing of Meat from Different Countries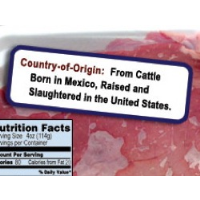 Representatives of the meat industry have sued the U.S. Department of Agriculture (USDA) over new rules that prohibit the mixing of animal meat from different countries.
The American Meat Institute, a trade group for packers, processors, and suppliers, and seven other industry organizations claim in their lawsuit that segregating meat is not part of federal law, and that the USDA has exceeded its authority in adopting new regulations earlier this year.
The plaintiffs also claim the rule will damage the market for imported meat, while offering no food safety or public health benefit.
Adopted in May, the new regulations mandate labeling for steaks, ribs and other cuts of meat to detail where animals were born, raised and slaughtered. Previously, labels only required the notation of countries of origin for meat.
Now, labels must specify such things as "Born in Canada, raised and slaughtered in the United States."
The regulations also ended the industry's historical practice of commingling meat from animals with different origins that were packaged and sold together.
The USDA says country of original labeling (or COOL) will help consumers make informed decisions about the food they buy.
Consumer groups back the changes for similar reasons.
"We've found that there's strong consumer support for country-of-origin labels. When you buy meat to feed your family, you ought to be able to know where it comes from," Ami Gadhia, senior policy counsel for Consumers Union, told the Associated Press. "If there's a food safety problem with a certain product, the labels can help consumers avoid that product."
-Noel Brinkerhoff
To Learn More:
Meat Industry Fights New USDA Regulations (by Ryan Abbott, Courthouse News Service)
Meat Groups Sue USDA over Meat Labeling Rule (by David Pitt, Associated Press)
American Meat Institute v. U.S. Department of Agriculture (U.S. District Court, District of Columbia)
Obama and USDA Secretary Vilsack Give up Protecting Livestock Producers against Meat Packers (by Noel Brinkerhoff and David Wallechinsky, AllGov)