Federal Review Challenges Legitimacy of 27 Death Penalty Convictions based on Hair Analysis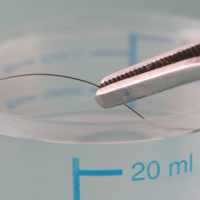 The U.S. Department of Justice has concluded that at least 27 murder convictions resulting in death penalty sentences involved federal forensic experts who may have mistakenly linked defendants to crimes with exaggerated scientific testimony.
This finding came as part of a federal review of more than 21,000 criminal cases that began last summer by the Justice Department and the Federal Bureau of Investigation (FBI).
One of the 27 convicted prisoners, Willie Jerome Manning of Mississippi, had his execution delayed, back in May.
Spencer Hsu of The Washington Post reported that it was unclear "how many of the cases involve errors, how many led to wrongful convictions or how many mistakes may now jeopardize valid convictions. Those questions will be explored as the review continues."
The FBI said it plans to review about 2,100 convictions handed down from 1985 to 2000 that involved the use human hair analyses and comparisons—a practice that has recently come under scrutiny as it has been replaced by DNA testing.
"There is no reason to believe the FBI Laboratory employed 'flawed' forensic techniques," FBI Special Agent Ann Todd, a spokeswoman for the bureau, told the Miami Herald in an email. "The purpose of the review is to determine if FBI Laboratory examiner testimony and reports properly reflect the bounds of the underlying science."
FBI officials plan to release more findings this summer from the review, which is being conducted in consultation with the Innocence Project and the National Association of Criminal Defense Lawyers.
Peter Neufeld, co-director of the Innocence Project, said, "The government's willingness to admit error and accept its duty to correct those errors in an extraordinarily large number of cases is truly unprecedented. It signals a new era in this country that values science and recognizes that truth and justice should triumph over procedural obstacles."
-Noel Brinkerhoff
To Learn More:
U.S. Reviewing 27 Death Penalty Convictions for FBI Forensic Testimony Errors (by Spencer S. Hsu, Washington Post)
FBI Announces Review of 2,000 Cases Featuring Hair Samples (by Michael Doyle, Miami Herald)
Flawed Evidence Under a Microscope (by Jack Nicas, Wall Street Journal)
Innocence Project and NACDL Announce Historic Partnership with the FBI and Department of Justice on Microscopic Hair Analysis Cases (Innocence Project)