12 States Have more Gun Deaths than Motor Vehicle Deaths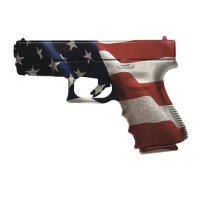 Throughout most of the United States, Americans are more at risk of dying in an automobile accident than getting shot.
But in at least 12 states (and the District of Columbia), firearms are the greater threat to life.
In 2010, there were more deaths due to gunfire, including suicides, homicides, and fatal unintentional shootings, than motor vehicle fatalities in Alaska, Arizona, Colorado, District of Columbia, Illinois, Louisiana, Maryland, Michigan, Nevada, Oregon, Utah, Virginia, and Washington.
In some locations, the total of gun-related deaths was at least twice that of the number of motor vehicle-related deaths. In Alaska, it was 144 vs. 71, and in DC it was 99 vs. 38.
"America is reaping the benefits of decades of successful injury prevention strategies on its highways, but continues to pay an unacceptable, yet equally preventable, price in lives lost every year to gun violence," according to the Violence Policy Center, which refers to firearms as "the last consumer product manufactured in the United States that is not subject to federal health and safety regulation."
-Noel Brinkerhoff
To Learn More:
Gun Deaths Outpace Motor Vehicle Deaths in 12 States and the District of Columbia in 2010 (Violence Policy Center) (pdf)
More Americans Now Die from Suicide than from Auto Accidents (by Noel Brinkerhoff, AllGov)
Drug-Related Deaths Reach Level of Motor Vehicle Deaths (by Noel Brinkerhoff, AllGov)