Security is Lax for U.S. Army Smart Phones and Tablets
Wednesday, April 03, 2013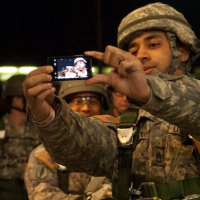 Army paratrooper with smart phone (photo: U.S. Army)
To stay current with today's communications-hungry generation, the U.S. Army decided to issue smart phones and tablets to soldiers and cadets. But Army officials were not up enough on the times to realize the importance of securing sensitive data on the devices.
A review of smart phones issued to West Point cadets revealed passwords either weren't set up or weren't complex enough to protect stored information, according to a new report (pdf) from the Pentagon's inspector general (IG).
"If devices remain unsecure," IG Alice F. Carey wrote, "malicious activities could disrupt Army networks and compromise sensitive [Defense Department] information."
Another problem discovered was that the Army hasn't kept track of the thousands of personal smart phones and tablets used by soldiers that access military networks. The IG investigation discovered that more than 14,000 such devices were in use without authorization, leaving them more vulnerable to data leakage and cyber-attacks. Apparently, the Army's chief information officer wrongly assumed soldiers weren't using their own devices to connect to the service's networks and store sensitive data on them—which is how the Bradley Manning controversy happened.
Manning downloaded thousands of classified documents from military and government databases and turned the information over to WikiLeaks, which published it on its website.
-Noel Brinkerhoff
To Learn More:
Army Practices Poor Data Hygiene on Its New Smartphones, Tablets (by Spencer Ackerman, Wired)
Improvements Needed With Tracking and Configuring Army Commercial Mobile Devices (Inspector General, Department of Defense) (pdf)
Pentagon Wants a 'Family of Devices' as It Makes Big Move Into Mobile Market (by Spencer Ackerman, Wired)
Federal Court Limits Cell Phone and Laptop Searches Near Border (by Matt Bewig, AllGov)
Law Enforcement Demands Cell Phone Details from Telecoms more than 3,500 Times a Day (by Noel Brinkerhoff and David Wallechinsky, AllGov)