As Hanford Radioactive Leak Continues, Clean-Up Contractor Pays Fraud Penalty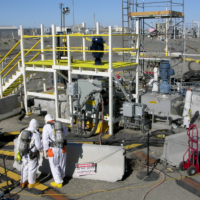 Hanford workerd checkin a leak in 2007 (photo: Department of Energy)
Bad news continues to leak out of the former nuclear weapons plant in Hanford, Washington.
Following news last week of underground storage tanks leaking toxic waste, the contractor hired to clean said tanks at the Hanford Nuclear Site has admitted to committing fraud.
The company, CH2M Hill Hanford Group Inc. (CHG), admitted that its workers padded their time cards, with the company's blessing, for years from 1999-2008, thus defrauding the government.
CHG's parent company, CH2M Hill Companies Ltd., agreed to pay $18.5 million for the wrongdoing, and commit another $500,000 towards improving the subsidiary's accountability systems.
The contractor was paid to manage and clean 177 large underground storage tanks containing mixed radioactive and hazardous waste. Six of those tanks have been leaking their contents into the soil, raising concerns about possible contamination of the Columbia River located five miles away.
Clean-up operations at Hanford, already daunting due to the enormous amount of waste accumulated at the Cold War-era facility, may become hampered as a result of the sequestration.
The U.S. Department of Energy, which oversees the plant, announced this week that more than half of Hanford's 9,000 workers, mostly employed by private contractors, could be furloughed or laid off soon because of budget cuts triggered by sequestration.
-Noel Brinkerhoff
To Learn More:
CH2M Hill Hanford Group Gets Non Prosecution Agreement (Corporate Crime Reporter)
Hanford Contractor To Pay More Than $18.5 Million (by Shannon Dininny, Associated Press)
Looming Budget Cuts Add to Problems at Nuclear Site (by Kirk Johnson, New York Times)
Six Underground Tanks Leaking Nuclear Waste in Washington State (by Noel Brinkerhoff and Danny Biederman, AllGov)
Half of Stimulus Dollars Awarded without Competition or Fixed Price (by Noel Brinkerhoff, AllGov)