Six Underground Tanks Leaking Nuclear Waste in Washington State
Wednesday, February 27, 2013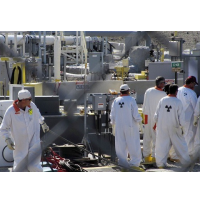 Hanford workers (AP Photo)
The nation's most daunting environmental cleanup project has a new toxic problem on its hands.
Within the Hanford Nuclear Reservation along the Columbia River in Washington State, six underground storage tanks are leaking radioactive waste. Some of the tanks hold as much as 500,000-750,000 gallons of dangerous fluid that is slowing seeping into the soil.
State and federal officials said the leaks don't pose an immediate threat to human health, since the tanks are located more than five miles from the Columbia River.
The newly discovered problem only adds to the soil contamination at Hanford, which was used for five decades to produce plutonium for the U.S. nuclear weapons arsenal.
There are nearly 150 tanks, similar in size and design, to the six spilling radioactive liquid and sludge at the site. Four of the six tanks have leaked in the past. The news led the state's governor, Jay Inslee, to wonder about the "integrity" of the other tanks.
"It points to the age of the tanks and how there's going to be an increased probability of this happening in the future," Suzanne Dahl, tank waste treatment manager for the state's Department of Ecology, told Reuters. "Once [the waste is] out of the tanks and in the soil, it's much harder to manage it, remove it, and down the road you're adding to contamination in the groundwater that already exists."
The U.S. Department of Energy reported that the tanks are leaking at a rate of up to 300 gallons per year.
With a total area comparable to the size of Los Angeles, Hanford is considered by experts to be the most challenging environmental remediation in North America. The nuclear site was built near the city of Hanford in 1943 as part of the Manhattan Project, the secret U.S. government research program that produced the first atomic bombs. Federal environmental regulators estimate the site now contains more than 130 million cubic yards of radioactive soil, thanks in large part to the dumping of 475 billion gallons of contaminated wastewater into the ground during the Cold War.
A multi-billion-dollar plan to secure all the waste within a glass-like material and house it in subterranean stainless steel canisters is years away, according to Dahl. But Americans don't have to wait that long to get a first-hand look at the infamous nuclear site; the U.S. government offers regular public tours, at no cost.
-Noel Brinkerhoff, Danny Biederman
To Learn More:
At the Hanford Nuclear Reservation, a Steady Drip of Toxic Trouble (by Eric Nusbaum, Daily Beast)
Radioactive Waste Leaking from Six Tanks at Washington State Nuclear Site (by Eric Johnson, Reuters)
Energy Dept. Accuses Bechtel of Botching Nuclear Cleanup in Washington (by Noel Brinkerhoff, AllGov)
Plutonium Cleanup in Washington State Could Take Millennia (by Noel Brinkerhoff, AllGov)
Contractor Approved Funding for Own Government Contract (by Noel Brinkerhoff, AllGov)