Secretary of the Treasury: Who Is Jack Lew?
Saturday, January 19, 2013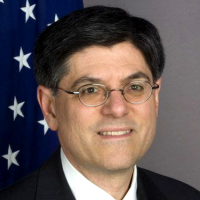 Despite the fact that Wall Street donated nearly three times more money to Mitt Romney than to President Barack Obama, the big banks got Obama to name one of their own as the next Secretary of the Treasury. Wall Street's sighs of relief were nearly audible when Obama announced his intent to nominate Jacob "Jack" J. Lew, the current Director of the Office of Management and Budget (OMB), to succeed current Treasury Secretary Timothy Geithner. Lew, who worked for Citigroup from 2006 through 2008, is arguably more of a Wall Street insider than was Geithner, whose only experience there was as president of the New York Federal Reserve—a government job.
Born August 29, 1955, in New York City, Lew grew up with a Polish immigrant father who was an attorney and rare-book dealer, and a mother who was an office manager. After graduating Forest Hills High School in 1972, Lew attended Carleton College (where his faculty advisor was future Democratic Senator Paul Wellstone) for a year before transferring to Harvard, where he earned a B.A. in 1978. He earned a JD at Georgetown University Law School in 1983.
Fascinated by politics from a young age, Lew's first political experience came at age 12 when he volunteered for the insurgent, anti-war presidential run of Sen. Eugene McCarthy (D-Wisconsin) in 1968. His first taste of Washington came in 1973 when he interned for five months with Rep. Bella Abzug (D-New York). He also worked as a legislative aide to Rep. Joe Moakley (D-Massachusetts) from February 1974 to August 1975.
After Harvard, Lew worked about a year for the city of Boston Office of Management and Budget as deputy director of the Office of Program Analysis. In August 1979 he joined the office of House Speaker Thomas "Tip" O'Neill and remained until O'Neill's retirement in January 1987. The last two years with O'Neill, Lew served as a principal domestic policy advisor and as assistant director, then executive director, for the House Democratic Steering and Policy Committee.
In January 1987, he joined the law firm of Van Ness, Feldman and Curtis, where he practiced energy law. During his five years at the firm, he also served as issues director for the Democratic National Committee's Campaign 88. From January 1992 to February 1993 he worked as executive director of the Center for Middle East Research.
From February 1993 to October 1994, Lew served as special assistant to President Bill Clinton. He was responsible for policy development and the drafting of the national service initiative (AmeriCorps) and health care reform legislation.
Lew left the White House in October 1994 to work as OMB's executive associate director and associate director for legislative affairs. From August 1995 until July 1998, Lew served as deputy director of OMB, functioning as the agency's chief operating officer responsible for day-to-day management of a staff of 500. He frequently served as a member of the administration's negotiating team, including work on the Balanced Budget Act of 1997.
President Clinton nominated Lew to be director of OMB, and he took over in July 1998. He served in that capacity until the end of the Clinton Administration in January 2001, and left behind a federal budget that was in the black by $237 billion.
Lew departed Washington to become executive vice president for operations at New York University, along with serving as a clinical professor of public administration at NYU's Wagner School of Public Service. At NYU, he played the part of a "union-buster" instrumental in ending graduate teaching students' collective bargaining rights.
In June 2006, Lew left NYU for the post of managing director and chief operating officer of Citigroup's Global Wealth Management. He then became managing director and chief operating officer of Citi Alternative Investments (CAI), responsible for financial derivatives traded for the bank's own account, which ultimately lost billions. Nevertheless, Lew received a $900,000-plus bonus in 2009—after the company's federal bailout. He also chaired the CAI Operating Committee and served as a member of the CAI Management Committee.
He joined the Obama administration in January 2009 as deputy secretary of state for management and resources, a position he held until his selection as OMB director, officially submitted to the Senate on August 5, 2010. The Senate confirmed Lew on November 18 after a lengthy delay caused by Sen. Mary Landrieu (D-Louisiana), who objected to the Obama administration's moratorium on oil drilling in the Gulf of Mexico. In January 2012, Lew left OMB to become White House Chief of Staff, replacing William Daley, who held the post for only a year.
Lew has co-chaired the advisory board for City Year New York. He's been a member of the Council on Foreign Relations, the Brookings Institution Hamilton Project Advisory Board, and the National Academy of Social Insurance. From 2004 to 2008, Lew served on the board of the Corporation for National and Community Service (which runs AmeriCorps) and chaired its Management, Administration, and Governance Committee. Lew is a member of the bar in Massachusetts and the District of Columbia.
Lew and his wife, Ruth (née Schwartz), his high school sweetheart, have a daughter and a son. They practice Orthodox Judaism.
-Matt Bewig
Jack Lew's Union-Busting past: In a little Reported Episode, our Possible Next treasury Secretary Played a Critical Role Trouncing an NYU Union (by Josh Eidelson, Salon)
Jack Lew: The Man Who Could Save Obama's Legacy (by Nancy Cook, National Journal)
Jacob Lew: Another Brick in the Wall Street on the Potomac (by William K. Black, Huffington Post)
"Failure of Epic Proportions": Treasury Nominee Jack Lew's Pro-Bank, Austerity, Deregulation Legacy (by Matt Taibbi and William K. Black, Democracy Now)
Jack Lew, Tim Geithner: The Treasury's New Boss, Same as the Old Boss (by Charles Ferguson, The Guardian)