No Overtime Pay for McDonald's Workers on Christmas Day
Thursday, December 20, 2012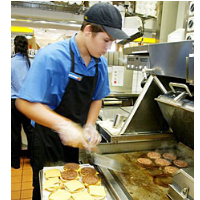 Working at McDonald's (AP Photo)
Corporate strategists at McDonald's are urging franchises to stay open this year on Christmas Day in order to boost sales. But fast-food workers won't be earning any extra holiday pay for showing up on December 25.
McDonald's already did the unthinkable last month when many of its 14,000 U.S. franchises were open on Thanksgiving Day, which resulted in an average of an extra $6,000 for each restaurant. That translated to a 2.5% corporate sales growth for November, a noticeable jump from the company's 2.2% drop the month prior.
Being open on Christmas Day may produce similar numbers, according to McDonald's USA Chief Operating Officer Jim Johannesen, who wrote in a memo that franchises operating on December 25, 2011, made about $5, 500 on average.
Low-wage employees at McDonald's don't receive holiday pay, however. Working on December 25 is strictly voluntary, the corporation insists.
That means those serving up Big Macs will earn the usual hourly wage, which according to the Food Chain Workers Alliance averages about $9.65 an hour.
-Noel Brinkerhoff
To Learn More:
McDonald's to Franchisees: Merry Christmas. Now Open Your Stores (by Maureen Morrison, Advertising Age)
McDonald's for Christmas? Burger Chain Asks Franchisees to Make It Business As Usual (by Martha White, Time)
One Million Apply for 62,000 Jobs…with McDonald's (by David Wallechinsky and Noel Brinkerhoff, AllGov)
McDonald's Gives Away Gen. Custer Toys in Indian Country (by Noel Brinkerhoff, AllGov)