One Million Apply for 62,000 Jobs…with McDonald's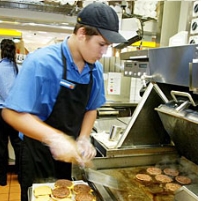 (photo: AP)
There has been so much talk in Washington and in the news about the national debt, terrorism, wars and healthcare that one might think these are the issues that most concern Americans in 2011. But opinion polls consistently show that none of these issues is as important to most Americans as the Big Issue: unemployment and the economy.
An unusually vivid example occurred on April 19, which McDonald's declared National Hiring Day, encouraging people across the country to apply for a job.
The world's biggest restaurant chain reported that it received one million applicants for open positions, which resulted in 62,000 people gaining employment. Another 900,000 plus were turned down.
A McDonald's spokeswoman said the company had planned to hire only 50,000 new employees. But the intense demand prompted it to take on an additional 24% in staff.
Throughout the country, the dearth of job opportunities prompted huge numbers of people to ask Ronald McDonald for employment. In Florida, for example, 100,000 applications were submitted for about 4,300 positions. In Chicago, more than 75,000 job-seekers vied for 2,000 openings.
-David Wallechinsky, Noel Brinkerhoff