Computer Spies Hack into Pentagon's Costliest Weapons Program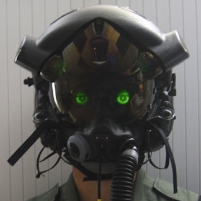 Proposed Helmut for Pilots of Joint Strike Fighter
Not once, not twice, but several times have plans for the Defense Department's most sophisticated, and expensive, military plane been hacked by cyber spies from China. In the most recent occurrence, intruders were able to gain access to the designs and electronics systems of the $300 billion F-35 Joint Strike Fighter—information that could help a U.S. enemy defend itself against the aircraft.
The hackers managed to gain entry to data about the F-35 through vulnerabilities in the Pentagon computer system used by defense contractors. Last year, the Pentagon's inspector general issued a report citing another incident involving unauthorized access of the plane's secrets, and complained about BAE's refusal to play ball with Defense Department security demands.
Another report from the Pentagon mentioned that the Chinese military has made "steady progress" in developing online-warfare techniques. It is no wonder then that defense officials are reportedly considering creating a new "cyber command" in charge of all Pentagon computer systems.
-Noel Brinkerhoff