Stunning Cost Overruns in Weapons Development Programs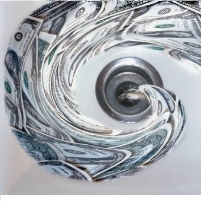 Had Benjamin Franklin ever served as Secretary of Defense, he might well have added "cost overruns" to his now famous adage about "nothing is certain but death and taxes," given how predictable the Pentagon has become in going over budget with weapons programs. The latest report by the Government Accountability Office (GAO) on the Defense Department's spending habits reveals, yet again, that of nearly a hundred programs totaling more than a trillion dollars, more than 70% are behind schedule, incurring added costs and forcing military planners to downsize their orders (also yet again).
According to the GAO, research and development costs for 96 weapons programs have increased 42% more than originally estimated, and Pentagon officials are, on average, 22 months behind schedule in delivering new weapons. The only good news contained in the GAO report is the fact that the Pentagon's 2008 cost growth of $296 billion is actually $5 billion less than the 2007 cost growth of $301 billion—but that's primarily because defense officials have decided to purchase fewer weapons than originally planned.
-Noel Brinkerhoff