Why is the Navy Allowed a Special Extra Fund Beyond its Budget to Build Submarines?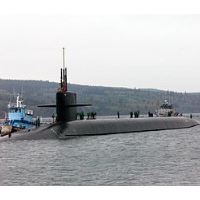 Ohio-class missile submarine (photo: Wikipedia)
Sometimes the U.S. military and its friends in Congress have to make difficult decisions when it comes to buying new weapons systems due to their high costs. And then there's the U.S. Navy.
Lawmakers two years ago gave the Navy a special fund—outside its normal budget—to build new submarines to replace the current Ohio-class missile boats. The rationale provided was the subs, armed with nuclear missiles, were just too vital to the country to do without, so the government just had to find a way to pay for them.
The Project on Government Oversight (POGO) said it warned Congress in 2013 that such a decision would not be a wise fiscal move. And guess what? The Navy has decided the special fund created just to launch new subs now can be used to build new aircraft carriers, too.
The Navy is already spending more money every year through its regular budget of $130 billion than either China or Russia does on their entire armed forces, according to POGO's Jacob Marx. But the Navy wants to pay for its 12 new SSBN(X) ballistic missile subs outside regular funding channels.
Without the extra appropriation, the Navy would have to give up 69 other vessels, including two aircraft carriers and 17 attack submarines, to pay for the SSBN(X)s. The Navy estimates the cost of those subs at about $6 billion each, after the first one, which is estimated to cost about $12 billion.
"The problem here is not that Pentagon budgets are too small, but that Pentagon leaders refuse to make smart spending choices," Marx wrote. "During his confirmation to become Secretary of Defense, Ashton Carter told the Senate Armed Services Committee, 'I believe the important decision is to make the commitment to modernizing the ballistic missile submarine fleet....Which account it is funded in is of lesser importance.'"
-Noel Brinkerhoff
To Learn More:
Special Shipbuilding Fund is Reckless and Unaffordable (by Jacob Marx, Project on Government Oversight)
An Analysis of the Navy's Fiscal Year 2015 Shipbuilding Plan (Congressional Budget Office) (pdf)
House Armed Services Subcommittee on Seapower and Projection Forces Holds Hearing on Undersea Warfare Capabilities and Challenges, 12 September 2013 (SubmarineSuppliers.org) (pdf)
Navy Gives up on $900 Million Nuclear Sub after Employee Set it on Fire So He Could Go Home Early (by Noel Brinkerhoff and Danny Biederman, AllGov)