Navy Gives up on $900 Million Nuclear Sub after Employee Set it on Fire So He Could Go Home Early
Wednesday, April 02, 2014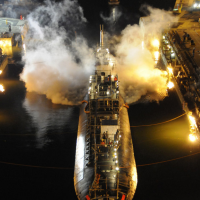 USS Miami on fire (photo: Jim Cleveland, U.S. Navy)
The USS Miami nuclear submarine survived military campaigns in the Middle East and the Balkans during its three decades of naval service. But it couldn't overcome the petty sabotage of an American civilian worker who just wanted to go home early.
The Miami was officially taken out of service last week when the U.S. Navy held a decommissioning service to celebrate its 24 years in the fleet.
Built in 1990 at a cost of $900 million, the Los Angeles-class attack sub—armed with anti-ship Harpoon missiles and Tomahawk cruise missiles—saw its most important deployments in 1998, when it participated in the bombings of Iraq (Operation Desert Fox) and Serbia.
In fact, those two missions made the Miami distinct, for it represented the first time since World War II that a U.S. sub fired ordinance during combat operations in two different theaters, according to Rear Admiral Ken Perry, commander of Submarine Group Two in Connecticut, where the sub was based.
The vessel would have continued to be an operational component of Group Two had it not been for Casey James Fury in May 2012.
While docked at the Portsmouth Naval Shipyard in Maine to undergo a 20-month overhaul, the Miami became engulfed in flames after Fury—a civilian painter and sandblaster working on board the sub—intentionally set a box of rags on fire. The blaze grew into an inferno that raged on for more than 12 hours before a team of 100 firefighters succeeded in putting it out. The fire damaged the sub's living quarters, command and control center, and a torpedo room, but didn't reach the nuclear propulsion components located at the rear of the vessel.
The cause of the fire was at first attributed to a stored vacuum cleaner. A month later, a second smaller fire erupted on the Miami. Suspicion landed on Fury, who denied responsibility but eventually confessed to both crimes after submitting to a polygraph test.
The reason he set both fires, Fury said, was because he wanted to leave work early due to anxiety. In one instance, he said that anxiety was caused by heated text messages with his girlfriend about her relationship with another man.
The Navy intended to repair the Miami and put it back into service. But the original cost estimate of $450 million eventually ballooned to $700 million. Naval commanders then decided it was too costly to salvage.
It will now be towed to the West Coast and, at a cost of $54 million, cut apart for scrap metal at the Puget Sound Naval Shipyard in Washington state.
As for Fury, he is now serving a 17-year sentence in federal prison.
-Noel Brinkerhoff, Danny Biederman
To Learn More:
Navy Says Goodbye to Sub Damaged by Worker's Arson (by David Sharp, Associated Press)
Crew Recalls USS Miami's Legacy at Decommissioning Ceremony (by Ray Brewer and Adam Sexton, WMUR)
Man Admits He Set Fires on the USS Miami to Leave Work Early and Over Anxiety About His Ex-Girlfriend (by Meena Hart Duerson, New York Daily News)