U.S. Pays to Maintain Unused Iranian Real Estate, Including Embassy
Monday, September 26, 2016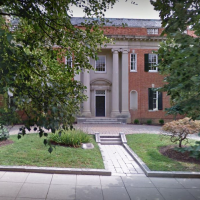 Iranian embassy in Washington--Credit: Google Street View
Nicholas Fandos, © 2016 New York Times News Service
WASHINGTON — The $12 million compound, once a playground for the Iranian ambassador and guests like Elizabeth Taylor, Andy Warhol and Richard Nixon, now sits empty on Washington's Embassy Row.
The five-story town house on New York's Upper East Side town house that served as a consulate was long ago repurposed as the headquarters of a dealer of old master paintings.
And the seven-bedroom Bethesda, Maryland, ranch house for Iranian diplomats is now the home of a family of five.
The properties, and seven others across the United States assessed altogether at more than $50 million, still belong to the Islamic Republic of Iran. But for nearly 40 years, the task of maintaining and putting the properties out for rent has fallen to an unlikely management company — the State Department.
The arrangement is one of the stranger consequences of the diplomatic freeze between United States and Iran, two former allies that cut official ties after Iranian revolutionaries took 52 Americans hostage in the U.S. Embassy in Tehran in 1979. Although much has changed since the nuclear deal last year, when Iran agreed to limit its nuclear program in exchange for sanctions relief, experts say Iran and the United States are still years away from re-establishing diplomatic relations.
As a result, Iran's properties in the United States remain in limbo, with little prospect of change.
"There's more dialogue between the United States and Iran, but the acrimony hasn't ceased," said Karim Sadjadpour, who studies Iran at the Carnegie Endowment for International Peace.
At the top of the list of Iranian government property is the compound that was Iran's embassy in Washington, the site of lavish parties in the 1970s given by Ardeshir Zahedi, the ambassador who was once married to the daughter of the shah of Iran.
"My heart is still a part of it," Zahedi said in an interview from Montreux, Switzerland, referring to the embassy designed at his behest in the 1960s by American and Iranian architects as a fusion of Persian and modernist styles. "It's like a baby for me. Day and night I was fighting to get the budget and have it done. And it was a pride."
The State Department's Office of Foreign Missions, adhering to guidelines in the 1961 Vienna Convention that govern relations between nations even if they sever diplomatic ties, acts as a real estate service for the Iranian properties. The office coordinates upkeep, security and landscaping, including cutting the grass, and hires local real estate firms to list some of them for rent. (Six of the 10 are currently rented.) Sam Werberg, a State Department spokesman, said the office tried to rent the properties at market rates and used the proceeds to pay for upkeep and other associated costs.
"They are in touch with real estate brokers just like everybody else, I guess," said Wolfgang H. Ludwigs, a real estate agent in Potomac, Maryland, who said he was approached unexpectedly by the State Department to list a property in Bethesda.
At least eight of the 10 properties are worth more than $1 million, according to tax assessments, and would most likely be worth more on the open market. Even if it wanted to, it is unclear if Iran could sell the properties unless it reached a diplomatic agreement with the United States.
Next door to the former Iranian Embassy is a 44-room Georgian Revival home, assessed at almost $10 million and currently empty, where Zahedi lived and where overnight guests stayed.
A similar building around the corner, formerly the offices of Iran's military and educational attachés, has been rented out to the Romanian ambassador since the 1990s for an undisclosed sum.
Several miles away in Bethesda, a German family of five occupies a former diplomatic residence, complete with a pool and two bars for entertaining. A local real estate agent last listed the property for rent in 2015 for $5,500 a month.
"It is a funny feeling being in this house," said Julian Koelsch, whose parents rent the property. "It has a very different feeling than normal American houses."
Richard L. Feigen and Co., a high-profile gallery specializing in old master paintings and European modernists, has made its headquarters since 2002 in the former Iranian consulate in New York, on 69th Street between Madison and Park Avenues. Feigen, like several other renters, declined to comment on his lease for fear of angering his landlord.
In Houston, a newer home with six columns out front stands as a relic of the days when oil and energy interests made allies of the Persian Gulf and the Gulf Coast.
In San Francisco, an 8,700-square-foot home, estimated to be worth more than $10 million, sits just blocks from the Presidio, at the heart of a region Zahedi said was once dotted with thousands of Iranian students and other civilians.
In Washington, the former embassy has been rented out in the past for weddings and other special events, but today blinds cover its windows and plaster peels from some of its walls. Zahedi, who served Iranian caviar and Dom Pérignon at parties costing tens of thousands of dollars, said the events he once held there built up his relationships in Washington.
"These things bring people together," he said.
Sadjadpour of the Carnegie Endowment said the Iranian Embassy in Washington — and the other properties around the country — served as a symbol of Iran's outsize role in American foreign relations in the 1960s and 1970s.
"Zahedi and his predecessors were very close to America's elite politicians and bankers and entertainment stars," he said. But after 1979, "it went from Iran having enormous influence in Washington to the polar opposite."
David G. Bradley, the owner of Atlantic Media who has a home around the corner from the former embassy, said that the Iranians had been gone so long that, in his neighborhood, the time can almost be measured in life cycles.
"It is a measure of how bad relations have been that the child I watched biking with training wheels around the embassy grounds is now 27 and living abroad," Bradley said, referring to his son. "It's been a long, long time."
Still, Zahedi said he held out hope that the two nations could reconcile. A painting of the embassy hangs in his Swiss home, a personal reminder, he said, of what the cooperation of the two nations can achieve.
"Yes, it is sad," he said. "I hope that soon it will change because I see the light at what I would call the end of the tunnel. Revenge is a horrible thing. To forgive is a beautiful thing."
To Learn More:
Siemens and Nokia Helped Iran Dictatorship with Web Spying (by Noel Brinkerhoff, AllGov)
Obama Administration Approves Boeing's Sale of Airplane Parts to Iran…First Time in 35 Years (by Steve Straehley, AllGov)