U.S. Counter-Terrorism Apparatus is used to Quell Dissent among Americans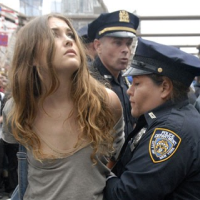 Police arrest Occupy Wall Street protestor (photo: Stephanie Keith, AP)
In the wake of the September 11, 2001, terrorist attacks and the creation of the Department of Homeland Security, the federal government organized "fusion centers" so that local and state police could communicate and share information with Washington in an effort to thwart future terrorist plots. But a new study says this unprecedented coordination of law enforcement has resulted in police spying on demonstrators and creating a chilling effect on dissent.
Produced by the DBA Press and the Center for Media and Democracy, the report discusses numerous instances in which fusion centers monitored Occupy Wall Street activists across the country.
"Heavily-funded municipal, county, state and federal 'counter-terrorism' agencies (often acting in concert through state/regional 'fusion centers') view citizens engaged in movements of political and social dissent, such as Occupy Wall Street, as nothing less than nascent, if not bona fide, 'terrorist' threats," the report reads.
The authors of the year-long study also say the "monitoring" and "suppression" of activists and dissident groups was often carried out "on behalf of, and in cooperation with, some of the nation's largest financial and corporate interests—the very entities that the Occupy Wall Street (OWS) movement and others oppose as usurpers of American democracy."
Much of the report ("Dissent or Terror: How the Nation's Counter Terrorism Apparatus, In Partnership With Corporate America, Turned on Occupy Wall Street") focused on the activities of the Arizona Counter Terrorism Information Center (ACTIC), a fusion center that kept watch on citizens active in Occupy Phoenix. This surveillance "benefited a number of corporations and banks that were subjects of Occupy Phoenix protest activity," including JPMorgan Chase, according to the report. For example, when JPMorgan CEO Jamie Dimon visited Phoenix, the bank's security department reached out to the local fusion center, whose members assured them that the Occupy movement was unaware of Dimon's visit.
Law enforcement in Phoenix weren't the only authorities to target Occupy protesters. It's been reported that a Boston police counterterrorism intelligence unit used a fusion center to spy on and monitor protest groups, including those that cropped up following the Occupy movement and anti-war demonstrators.
-Noel Brinkerhoff
To Learn More:
Dissent as 'Terrorism': Targeting Public Protest in the Post-9/11 Era (by Lauren McCauley, Common Dreams)
Boston Police Spied on Occupy Protesters Instead of Investigating Tsarnaevs (RT)
New Evidence: Homeland Security Spied On Peaceful Protestors; Worried About Protests Getting News Coverage (by Mike Masnick, Techdirt)
Dissent or Terror: How the Nation's Counter Terrorism Apparatus, in Partnership with Corporate America, Turned on Occupy Wall Street (by Beau Hodai, Center for Media and Democracy, DBA Press) (pdf)
Occupy Wall Street Was Target of FBI Counterterrorism Operation (by Noel Brinkerhoff, AllGov)
Homeland Security Fusion Centers: Surveillance Gone Wild (by Matt Bewig, AllGov)