Homeland Security Fusion Centers: Surveillance Gone Wild
Thursday, October 04, 2012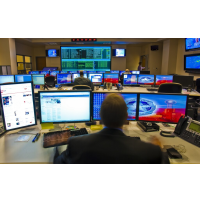 Dallas Police Department Fusion Center (photo: jupiter.com)
One of the government's most highly touted domestic counterterrorism programs, which Homeland Security (DHS) Secretary Janet Napolitano has called "one of the centerpieces of our counterterrorism strategy," has wasted millions of dollars, violated the privacy of American citizens, and diverted funds to local law enforcement concerns—all while failing to furnish useful counterterrorism intelligence, according to a new Congressional report.
Created by Congress in the aftermath of the September 11, 2001, attacks on New York and Washington, the 72 fusion centers were supposed to be a way for federal, state and local officials to share intelligence related to terrorism. The hope was that such information sharing would help root out terror plots before they were carried out.
That has not happened: "The subcommittee investigation could identify no reporting which uncovered a terrorist threat, nor could it identify a contribution such fusion center reporting made to disrupt an active terrorist plot," the report concluded.
The report also found that the centers "forwarded intelligence of uneven quality—oftentimes shoddy, rarely timely, sometimes endangering citizens' civil liberties and Privacy Act protections, occasionally taken from already published public sources, and more often than not unrelated to terrorism."
Senate investigators reviewed 610 draft reports created by fusion centers between April 1, 2009, and April 30, 2010, of which only 94 (15.4%) were even related to terrorism. Exactly twice that many, 188 (30.8%), were cancelled, because they lacked "useful information" or violated civil liberties or privacy.
Of the 94 terrorism-related reports, "most were published months after they were received; more than a quarter appeared to duplicate a faster intelligence-sharing process administered by the FBI; and some were based on information drawn from publicly available websites or dated public reports," according to the report.
During that same 13-month period, the FBI foiled the plans of would-be New York subway attacker Najibullah Zazi; U.S. Army Major Nidal Hasan killed 13 people at Fort Hood; Umar Abdulmutallab tried to blow up a Detroit-bound airplane; and (in early May 2010) Faisal Shahzad tried to blow up an SUV in Times Square. The fusion centers, the report says, contributed nothing of value to any of these cases.
The report shed light on the almost comically inadequate training provided to fusion center personnel. Until 2012, DHS required officials to take only a five-day course—with no testing or evaluation afterward—before sending them into the field to write reports on sensitive domestic intelligence. Harold "Skip" Vandover, an ex-official who supervised reporting, told investigators that, "There were times when it was, 'What a bunch of crap is coming through.'" "You can barely teach people what the word ('intelligence') means" in a week, he said. "All the problems we saw–are all linked right straight back to training."
An anonymous DHS official was even more brutal: "You would have some guys, the information you'd see from them, you'd scratch your head and say, 'What planet are you from?'"
Even when the fusion centers did manage to work on counter-terrorism, they often did so in ways that violated the constitutional freedoms and privacy rights of American citizens. A DHS official warned in 2009 that the fusion centers were collecting data on Americans "without proper vetting," and were "improperly reporting this information through homeland information reporting channels."
The centers circulated information about Ron Paul supporters, the ACLU, activists on both sides of the abortion debate, war protesters, advocates of gun rights and Muslim community group and mosque activities—including book recommendations and parenting classes—that were clearly innocent. Although the federal government is barred from storing information about First Amendment activities unrelated to criminal activity, DHS kept these reports on its computers, despite knowing they were worthless.
Investigators also found overspending at the fusion centers, which are funded via grants from the Federal Emergency Management Agency (FEMA) and are run locally with very little DHS oversight. Thus a San Diego fusion center bought 55 flat-screen televisions for $75,000 to watch the news and display calendars; five centers bought hidden "shirt button" cameras, cellphone tracking systems and other surveillance tools even though fusion centers are not supposed to collect data themselves; and an Arizona center bought two fully equipped Chevrolet Tahoes to use for commuting.
DHS officials have been less than forthcoming about the fusion centers problems, hiding an internal department report on the program's flaws from Congress in 2010, and repeatedly overstating the number of centers in operation. DHS officials were unable to tell Senate investigators how much money has been spent on fusion centers, offering an estimate that ranged from $289 million to $1.4 billion.
The Senate report did not go unanswered. DHS officials called it "out of date, inaccurate and misleading," claiming that they have fixed many of the problems set forth in the report. Mike Sena, president of the National Fusion Center Association, a private lobbying organization "funded by corporations who seek to do business with fusion centers," contended that fusion centers helped provide accurate and timely data on recent high-profile shootings in Colorado and Wisconsin. Neither of those crimes were acts of terrorism, and Senate investigators found that terrorism is often a secondary focus at the centers.
The Senate report concluded, "Many fusion centers lacked either the capability or stated objective of contributing meaningfully to the federal counterterrorism mission. Many centers didn't consider counterterrorism an explicit part of their mission, and federal officials said some were simply not concerned with doing counterterrorism work."
-Matt Bewig
To Learn More:
Report Savages Terrorism "Fusion Centers" for High Cost, Low Value (by Andrew Becker and G.W. Schulz, Center for Investigative Reporting)
Inquiry Cites Flaws in Counterterrorism Offices (by James Risen, New York Times)
Intelligence Effort Named Citizens, not Terrorists (by Matt Apuzzo and Eileen Sullivan, Associated Press)
DHS Counterterror Centers Produce "a Bunch of Crap," Senate Finds (by Spencer Ackerman, Wired)
Federal Support for and Involvement in State and Local Fusion Centers (Senate Permanent Subcommittee on Investigations) (pdf)