Trump Claims His Support for Dakota Pipeline is Unrelated to His Stock Ownership in Project Participants
Monday, December 05, 2016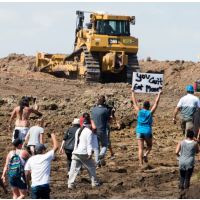 Protesters converge on Dakota pipeline work site, Sept. 2016 (photo: Robyn Beck, AFP/Getty Images)
By Matthew Daly, Associated Press
WASHINGTON (AP) - President-elect Donald Trump supports completion of the disputed Dakota Access oil pipeline in the Midwest, based on policy and not the billionaire businessman's investments in a partnership building the $3.8 billion pipeline, according to an aide's memo.
Spokesman Bryan Lanza said in a memo this week to supporters that Trump's backing for the pipeline near a North Dakota Indian reservation "has nothing to do with his personal investments and everything to do with promoting policies that benefit all Americans."
The Associated Press obtained a copy of the memo.
Trump's most recent federal disclosure forms, filed in May, show he owned a small amount of stock in Texas-based Energy Transfer Partners, the pipeline builder, and at least $100,000 in Phillips 66, an energy company that owns one-quarter of the pipeline.
Trump spokeswoman Hope Hicks said in response to an AP story last week that it is her understanding Trump recently sold his Energy Transfer stock, but she provided no details. Neither Hicks nor other Trump aides have responded to repeated requests for information since then.
In a 17-page memo to campaign supporters and congressional staff, Trump's transition team says Trump "intends to cut the bureaucratic red tape put in place by the Obama administration that has prevented our country from diversifying our energy portfolio."
The four-state Dakota Access pipeline is part of that strategy, the memo says. Then, in an apparent reference to criticism by congressional Democrats and environmental groups, the memo says those claiming that Trump's support for the project is related to his investments "are only attempting to distract from the fact that President-elect Trump has put forth serious policy proposals he plans to set in motion on Day One."
While Trump's stake in the pipeline company is modest compared with his other assets, ethics experts say it's among dozens of potential conflicts that could be resolved by placing his investments in a blind trust. Trump said this week that he will soon announce plans to step back from his company while he is president.
The memo also offers encouragement to protesters who have camped out near a proposed pipeline crossing in North Dakota close to the Standing Rock Sioux reservation. Hundreds of protesters - calling themselves water "protectors" - have shrugged off heavy snow and frigid temperatures to hunker down in a large encampment near the crossing site beneath a Missouri River reservoir.
The government has ordered protesters to leave federal land by Monday, although it's not clear what, if anything, authorities will do to enforce that mandate. Demonstrators insist they will stay for as long as it takes to divert the pipeline, which the Standing Rock Sioux tribe believes threatens sacred sites and a river that provides drinking water for millions of people.
The memo says Trump and his team "respect all Americans' First Amendment right to peacefully protest, and we hope that local and federal officials continue to give support to local law enforcement so they are able to continue to protect these protesters."
The Obama administration said last month it wants more study and tribal input before deciding whether to allow an easement for the partially built pipeline under the Missouri River reservoir. The 1,200-mile pipeline would carry oil across four states to a shipping point in Illinois.
Sen. John Hoeven, R-N.D., said the Obama administration should approve the easement immediately. Because of continued delays, Hoeven said he met with Trump's transition team to urge him to support the project. Trump was meeting Friday with North Dakota's other senator, Democrat Heidi Heitkamp.
Hoeven said he's confident that Trump "will work to help us grow and diversify our energy economy" and create jobs in the state, the nation's second-largest oil producer after Texas.
To Learn More:
Trump Stock Ownership in Dakota Pipeline Firm Foreshadows Trouble if Conflict Becomes His Call (by Matthew Daly, Associated Press)
As Protesting Sioux Dig In, Dakota Pipeline Work Resumes With Approval from Court but Not from Army Corps (by Blake Nicholson, Associated Press)
Pipeline Protesters May Remain on Federal Land (by James MacPherson, Associated Press)
Native American Tribes Protest Pipeline Construction (by Levi Lass, Courthouse News Service)