Too Big to Fail Banks Ranked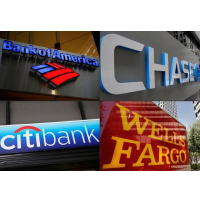 (AP photos)
JPMorgan Chase has earned the distinction of being the largest bank among those deemed too-big-to-fail for the sake of the U.S. financial and economic systems, according to a new government report (pdf).
The federal Office of Financial Research (OFR) ranked 12 U.S. financial institutions based on their "total exposures."
No. 1 was JPMorgan Chase followed by Citigroup, Bank of America, Wells Fargo, Goldman Sachs and Morgan Stanley.
The remaining six banks were U.S. Bancorp, PNC Financial Services, Bank of New York Mellon, HSBC N.A. Holdings, State Street and Capital One.
Among the conclusions produced in the report are findings that "the largest U.S. banks generally scored highest for all systemic risk indicators," and that "several of the largest banks scored high in systemic importance because they dominate specific businesses, such as payments and asset custody services."
The authors of the OFR report based their findings on data collected by the Federal Reserve System. That data was significant, they said, because it provides additional transparency that helps to quantify important aspects of the banking system.
Their evaluation was made by comparing scores on the banks' sizes, global activity, complexity, interconnectedness, and dominance in certain areas of customer service.
- Danny Biederman, Noel Brinkerhoff
To Learn More:
Systemic Importance Indicators for 33 U.S. Bank Holding Companies: An Overview of Recent Data (by Meraj Allahrakha, Paul Glasserman, and H. Peyton Young, Office of Financial Research) (pdf)
15,559 Sign Petition Opposing Merger to Create New "Too-Big-to-Fail" Bank (by Ken Broder, AllGov California)
Bailout Helped Banks "Too Big to Fail" Get Bigger (by Noel Brinkerhoff, AllGov)