This is the Poorest County in the U.S.: Telfair County, Georgia
Saturday, December 06, 2014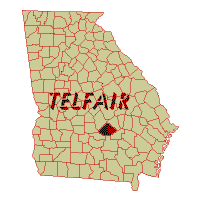 (graphic: Southwest Georgia)
New figures released from the federal government show a small county in Georgia has the distinction of being the poorest such jurisdiction in the United States.
Telfair County ranks at the bottom among all counties in terms of per-capita personal income. The average income last year for Telfair residents was $17,536 after falling 1.2% from 2012. That's more than $6,000 below the federal poverty line ($23,283 for a family of four), according to the U.S. Census Bureau.
Telfair has only 16,000 residents, 61% of whom are white. African Americans make up 36% of the population. Two of Telfair's cities, McRae and Helena, recently merged because Helena's wastewater system needed major repairs.
Which county is the richest in the United States? New York County, better known as the island of Manhattan, with an average income of $121,632.
-Noel Brinkerhoff
To Learn More:
Local Area Personal Income, 2013 (Bureau of Economic Analysis) (pdf)
Telfair County (New Georgia Encyclopedia)
Telfair County, Georgia (U.S. Census Bureau)
First Mayor Elected In Newly Merged McRae-Helena (by Kenley Hargett, WMGT)