Rise of the Internet Leads Paper Industry to Desperate Measures to Preserve Profits
Thursday, August 13, 2015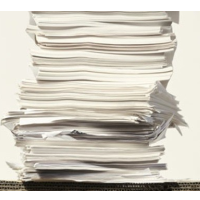 (photo: Blue Mountain, Getty Images)
The paper industry has been knocking on a lot of doors in Washington, pleading with the government to continue using paper reports and checks instead of digital deliveries.
Demand for paper products has dropped by about 5% annually over the past five years and to keep it from losing more revenues, the industry is trying to maintain a paper status quo with federal agencies. So far it has not been very successful.
First, the paper lobby, under the name Consumers for Paper Options, tried to keep the Social Security Administration from dumping paper earnings statements to 150 million Americans in favor of electronic files, which save $72 million a year.
Consumers for Paper Options also went after the Food and Drug Administration for eliminating tiny-print inserts from prescription drug boxes and putting them online.
The paper lobby really didn't like it when the Internal Revenue Service stopped printing the "bible" of tax guide preparation for Americans, officially known as Publication 17.
Now, the group created by the Envelope Manufacturers Association is fighting the Securities and Exchange Commission, which is requiring mutual funds to send shareholders their dividend statements digitally, according to The Washington Post. The group says many older Americans who own mutual funds don't have Internet access. "While we recognize the trend towards a more digital world, it is critical that government efforts to 'modernize' information delivery do not disenfranchise Americans who need or want resources in paper format," the group said in a statement.
-Noel Brinkerhoff
To Learn More:
The Paper Lobby's New Federal Target: The Securities and Exchange Commission (by Lisa Rein, Washington Post)
Paper Industry Fights to Stop U.S. Government from Total Digital Conversion (by Noel Brinkerhoff, AllGov)
U.S. Government Wastes $440 Million a Year on Useless Printing (by Noel Brinkerhoff, AllGov)