Rich Democrats Discover the Joy of Super PACs
Monday, February 10, 2014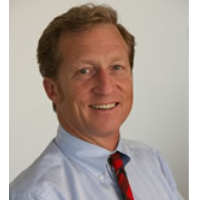 Tom Steyer
The rise of super-sized political action committees (super PACs) following the Citizens United (pdf) court ruling at first favored Republicans who heartily embraced the new opportunities to collect huge sums from rich donors. But Democrats, many of whom publicly blasted the U.S. Supreme Court for throwing out federal contribution limits, have learned to play the super PAC game as well if not better than the GOP.
Last year, the two top donors to super PACs hailed from the left: Former New York City Mayor and Republican-turned-independent Michael Bloomberg and California billionaire hedge-fund manager Tom Steyer, who's big on the environment.
Steyer gave out $11.1 million in donations, while Bloomberg contributed $8.7 million, according to the Sunlight Foundation, a nonpartisan watchdog group. The biggest Republican sugar daddy, homebuilder Bob Perry, doled $3.1 million before he died last April.
Democrats also outdid Republicans when it came to raising money for congressional super PACs, Michael Beckel reported for Slate. In fact, it wasn't even close. It took only three Democratic super PACs to outraise five super PACs on the GOP side—and they did so by a factor of four.
Steyer's place as the No. 1 giver to super PACs isn't surprising. He's contributed at least $40 million to federal and state campaigns over the years, with $32 million alone going to help pass Proposition 39 (the California Clean Energy Jobs Act). He's also supported efforts to help mitigate climate change and other pro-environment causes.
-Noel Brinkerhoff
To Learn More:
Reversing Trend, Democrats Top the List of Biggest Super PAC Donors (by Peter Olsen-Phillips and Nancy Watzman and Jacob Fenton, Sunlight Foundation)
How Democrats Learned to Stop Worrying and Love Super PACs (by Michael Beckel, Slate)
Super PACs Shove Aside Traditional Campaign Financing (by Noel Brinkerhoff and David Wallechinsky, AllGov)
Democrats Seek Super-Rich Donors to Match Republican Super-Rich Donors...Is This Democracy in Action? (by Noel Brinkerhoff and David Wallechinsky, AllGov)