Super PACs Shove Aside Traditional Campaign Financing
Thursday, February 23, 2012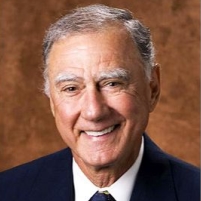 William J. Doré, Rick Santorum's million-dollar man
Super-sized political action committees have now become the dominant force in this year's campaign fundraising, pulling in more cash than the efforts of candidates running for president.
In January, four super PACs supporting Republicans seeking their party's nomination collected $22.1 million. The candidates—Mitt Romney, Rick Santorum, Newt Gingrich and Ron Paul—raised a combined $21.1 million that month.
Super PACs are able to out-raise traditional campaigns because the committees can accept donations of unlimited amounts from wealthy individuals, corporations or unions. But donors to candidates can only give $2,500 per candidate, per election.
In some cases, a super PAC can be little more than an extension of a single person. The pro-Gingrich super PAC, Winning Our Future, raised $11 million in January—of which $10 million came from billionaire casino owner Sheldon Adelson and his wife, Miriam.
Of the $2.4 million collected by the pro-Ron Paul super PAC Endorse Liberty, $1.7 million came from PayPal co-founder Peter Thiel. The pro-Rick Santorum super PAC Red, White and Blue Fund collected $2.1 million in January, but almost all of it came from two people: $1 million from oil equipment executive William J. Doré and $669,000 from Foster Friess.
By comparison, Mitt Romney's super PAC donors are positively diverse—it took forty of them to raise most of Restore Our Future's $6.6 million.
-Noel Brinkerhoff, David Wallechinsky
To Learn More:
Elections…We Get What They Pay For (by Noel Brinkerhoff, AllGov)