Proposed $16 Billion Mortgage Loan Settlement against Bank of America not so Bad for BofA as it Appears
Saturday, August 09, 2014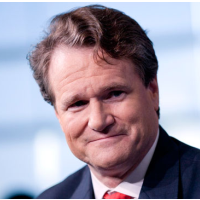 Bank of America CEO Brian Moynihan (photo: Andrew Harrer, Bloomberg/Getty Images)
Obama administration officials are trumpeting a penalty levied against Bank of America for peddling bad mortgages last decade. But the settlement announced by the Department of Justice may not be nearly as tough on BofA as officials claim, particularly if things go the same way as another supposed crack-down last year involving a leading national bank.
First the official line: BofA has agreed to a $16 billion penalty crafted by federal prosecutors for selling faulty mortgages packaged as securities before the financial crisis. The Justice Department crowed that the plan represents the largest corporate legal settlement with the government in U.S. history.
But BofA will be able to write-off a substantial portion of the cost, and half of the deal's "technical cost is made up of actions on behalf of homeowners that are in the bank's best interests to begin with, not cash outlays that cost the bank money," Alan Pyke wrote at Think Progress.
Pyke also noted that prosecutors used a similar settlement with JPMorgan Chase as a pattern for the BofA deal—and Chase doesn't appear to be the worse for wear.
The $13 billion deal announced in 2013 was the largest of its kind, too. "But the JP Morgan deal actually cost the bank less than half of that sticker price," according to Pyke.
Of the $9 billion in direct payments JPMorgan was to make, $7 billion was tax deductible. Another $4 billion turned out to be monies included in another settlement with the Federal Housing Finance Agency.
Kevin Whelan, national campaign director for Home Defenders League, a non-profit foreclosure activist group, said in an email to Think Progress: "The fact that the JP Morgan Chase settlement has not delivered any noticeable relief to families makes us skeptical."
Even the $16 billion is cheap compared to the damage inflicted by BofA. The fine is less than 7% of the value of the mortgages made by BofA and its associated companies that have gone south.
Bank of America CEO Brian Moynihan agreed to the settlement after months of stalling. The deal came after federal judge Jed Rakoff ordered BofA to pay $1.3 billion in another case. At that point, bank officials saw the handwriting on the wall and caved to Justice Department demands for a settlement.
-Noel Brinkerhoff
To Learn More:
Bank of America's $17 Billion Mortgage Crisis Settlement Could be a Total Bust (by Alan Pyke, Think Progress)
Bank of America Offers U.S. Biggest Settlement in History Over Toxic Mortgage Loans (by Ben Protess and Michael Corkery, New York Times)
Largest Mortgage Settlements by Banks (USA Today)
Justice Dept. Sues Bank of America over Prime Mortgage Fraud (by Noel Brinkerhoff, AllGov)
Bank of America has Worst Big Bank Home Loan Customer Service Complaint Record (by Matt Bewig, AllGov)
Bank of America Smacked with Foreclosure Fraud Lawsuits (by Matt Bewig, AllGov)