Personal Housing Expenses See Biggest Jump in 8 Years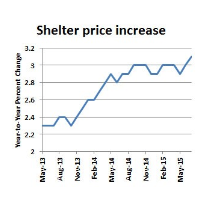 (graphic: Steve Straehley, AllGov)
It continues to get more expensive to have a roof over one's head, according to government figures.
According to a report (pdf) from the Bureau of Labor Statistics, the cost of shelter increased 0.4% last month, the biggest increase since February 2007. The cost of shelter has jumped 3.1% over a year ago, its largest year-over-year increase since January 2008. Part of the increase was due to a big jump in temporary lodging (i.e., hotels), but rent and its homeowners' equivalent went up a solid 0.3%.
Rent already takes a huge chunk out of Americans' paychecks, with as many as half of renters paying 30% of their take-home pay for a place to live. High rents affect poorer Americans the most. Not only do they pay more for rent now, but they're unable to save money to buy a home of their own.
Part of the reason for increased rents is a shortage of available units. Last year's vacancy rate of 7.6% was the lowest such figure in 20 years.
-Steve Straehley
To Learn More:
U.S. Housing Costs: Up, Up, Up, Up (by Bourree Lam, The Atlantic)
Consumer Price Index—July 2015 (Bureau of Labor Statistics) (pdf)
They're Not "Poor," but 31% of California Households Can't Afford Basic Needs (by Ken Broder, AllGov California)
As Home Ownership Rate Drops to 22-Year-Low, Rents are on the Rise (by Noel Brinkerhoff, AllGov)
In No State can a Minimum Wage Worker Afford a One-Bedroom Rental for Fewer than 49 Hours of Work a Week (by Steve Straehley, AllGov)