As Home Ownership Rate Drops to 22-Year-Low, Rents are on the Rise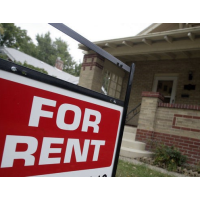 (AP photo)
Between rising rents and tougher mortgage qualification standards, it's difficult for many Americans to find a place of their own.
A report (pdf) by Harvard University's Joint Center for Housing Studies says the homeownership rate fell to 64.5% in 2014, "erasing nearly all of the increase in the previous two decades," the report said. The rate was nearly 70% in 2004.
The number of homeowners has now declined for eight straight years, and this year appears to be going in the same direction. The national homeownership rate was down to 63.7% in the first quarter of 2015.
The drop in homeownership has been most noticeable among Generation X, which "took most of the hit from the housing bust," according to the report. "Just before the crash, younger gen-Xers were in the prime first-time homebuying years while older members of this generation were at the stage when households tend to trade up or make significant improvements to their existing homes," the report states. "When prices plummeted, many of these owners had little or no equity to weather the recession."
Homeownership among those in the 35–44 and 45–54 year-old age groups have fallen further than those of any other group and are 4 to 5 percentage points below rates among same-aged households 20 years ago.
Meanwhile, it's been getting tougher to rent, due to shrinking availability of units and rising rents.
The national vacancy rate dropped to 7.6% last year, its lowest point in nearly 20 years. This caused rents overall to increase 3.2% in 2014—"twice the pace of overall inflation," according to the study. Among professionally managed apartments the vacancy rate was even lower (4.6%), fueling even larger rent increases of 3.8%, researchers found.
Another issue is that much of the new rental property is aimed at the higher end of the market. "In 2013, the median asking rent for newly constructed multifamily units was $1,290, equivalent to about half of the median renter's monthly household income. At that rent level, over two-thirds of today's renter households could not afford this new unit at the traditional 30-percent-ofincome standard," the report's authors wrote.
-Noel Brinkerhoff
To Learn More:
Executive Summary (Joint Center for Housing Studies of Harvard University) (pdf)
Homeownership (Joint Center for Housing Studies of Harvard University) (pdf)
Rental Housing (Joint Center for Housing Studies of Harvard University) (pdf)
More Americans Are Renting, and Paying More, as Homeownership Falls (by Dionne Searcey, New York Times)
4 out of 5 New Big City Rental Buildings are Luxury Apartments (by Noel Brinkerhoff and Steve Straehley, AllGov)
Affordable Rent Slips out of Reach for Majority of Renters (by Noel Brinkerhoff, AllGov)