Pepsi and FedEx among Hundreds of Companies Using Luxembourg to Avoid Taxes
Friday, November 07, 2014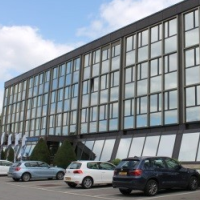 This Luxembourg address is home to 1,600 companies (photo: Delphine Reuter, ICIJ)
The tiny European country of Luxembourg has become a tax haven for hundreds of international corporations seeking ways to reduce their tax obligations by billions of dollars.
This discovery, made by the International Consortium of Investigative Journalists (ICIJ) from thousands of pages of leaked documents, involves at least 340 companies, including PepsiCo and FedEx.
While having little or no presence in Luxembourg, corporations have enjoyed huge tax breaks through various accounting schemes and legal maneuvers. "In some instances … companies have enjoyed effective tax rates of less than 1 percent on the profits they've shuffled into Luxembourg," ICIJ reported.
FedEx established two Luxembourg affiliates so it could move money made in Mexico, France and Brazil to Hong Kong. The plan resulted in the shipping giant paying only one quarter of 1% on the earnings involved.
"A Luxembourg structure is a way of stripping income from whatever country it comes from,'' Stephen E. Shay, a professor of international taxation at Harvard Law School and a former tax official in the U.S. Treasury Department, told ICIJ. Luxembourg, he said, "combines enormous flexibility to set up tax reduction schemes, along with binding tax rulings that are unique. It's like a magical fairyland."
PepsiCo arranged several loans among subsidiaries with Luxembourg's help to cut its taxes on $1.4 billion spent to obtain controlling interest in JSC Lebedyansky, a Russian juice producer.
"Luxembourg has a very user-friendly tax department," said Richard D. Pomp, a tax law professor at the University of Connecticut School of Law.
In addition to ICIJ looking into Luxembourg's tax haven operations, the European Union has been trying to obtain records to see if the country's deals with Amazon and Fiat Finance have broken EU law.
Other companies mentioned in the leaked documents are Accenture, Abbott Laboratories, American International Group (AIG), Blackstone, Deutsche Bank, the Coach handbag empire, H.J. Heinz, JP Morgan Chase, Burberry, Procter & Gamble, the Carlyle Group and the Abu Dhabi Investment Authority.
-Noel Brinkerhoff, Steve Straehley
To Learn More:
Leaked Documents Expose Global Companies' Secret Tax Deals in Luxembourg (by Leslie Wayne, Kelly Carr, Marina Walker Guevara, Mar Cabra and Michael Hudson, International Consortium of Investigative Journalists)