Paid Family Leave on Quiet Upswing in Some States and Industries
Wednesday, August 03, 2016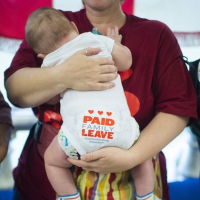 (photo: Washington Post/Getty Images)
By Damian Troise and Matt Ott, Associated Press
NEW YORK (AP) — The call for paid family leave on the Democratic party platform is the most ambitious attempt by a major party in years to reverse the United States' status as the only industrialized nation without any standard for paid time off for new parents. But over the last five years a handful of states and some industries have been quietly increasing this benefit.
Last week's convention put paid family leave on the list of workplace election issues along with the minimum wage and equal pay. The Democrats say they will try to secure up to 12 weeks of paid family and medical leave to care for a new child. While the Republican platform makes no specific reference to paid family leave, the GOP in 2015 called for establishing a "flexible credit hour program" in which workers could exchange overtime hours worked for future leave time.
While Americans generally support paid family leave — a poll conducted this spring by the Associated Press-NORC Center for Public Affairs Research found that 72 percent of Americans 40 and older support the benefit — efforts to adopt a national standard haven't gone anywhere. Advocates are now more hopeful. "It's taken on an inevitability," said Ellen Bravo, executive director of Family Values @ Work, an advocacy group. "Not that it will happen by itself, that it will take work. It took a decade to get the first three states."
More reason for optimism is that a few states and several competitive industries have slowly been bolstering paid parental leave laws and policies.
Here's a look at the current best and worst industries and regions with regard to paid family leave benefits.
BEST INDUSTRIES
The technology sector leads the private sector in parental leave offerings.
About 30 percent of tech workers had access to paid family leave, up from 23 percent in 2011, a Bureau of Labor Statistics survey from March 2015 found. That's nearly triple the average of all industries. About 12 percent of workers overall had access to paid family leave in 2015, up just slightly from 11 percent in 2011.
Netflix made a media splash last year when it changed its policy to allow new mothers and fathers up to a year off. Etsy gives new parents up to 26 weeks off, while Google offers 12 weeks of paid time, and Microsoft has expanded its offering to 20 weeks.
Facebook offers 16 weeks of paid leave to new parents, and CEO Mark Zuckerberg made headlines when he took two months off to care for his new daughter.
The industries that shine tend to compete for workers globally where other nations and companies offer generous benefits. "For many companies, this is a business issue," Bravo said. "It's about retaining and attracting talent."
Such industries include the financial sector. Bank of America, Merrill Lynch and Citi all offer more than 12 weeks of paid parental leave.
Recently, Ernst & Young boosted its paid parental leave to 16 weeks from 12 weeks and made the entire amount available to both men and women. The company's benefits also include a career and family transition program that gives new moms and dads a coach to help them better balance work and family.
Lindsay Abt, a partner in the company's audit practice, cited its leave policy as a key asset in helping her adjust to being a new parent.
"As a new mom, you're trying to figure out what that means along with a new schedule. With the leave I took, by the time I went back to work, I felt I was in a good routine," she said.
BEST PLACES
California allows workers to receive 55 percent of their pay for up to six weeks, through a state insurance program funded by workers. A new San Francisco law requires private employers within the city to make up the remainder of a new parent's full pay for six weeks.
Starting in 2018, New York workers will become eligible to take up to 12 weeks paid time off to care for a new child or sick relative. The benefit will be funded by worker payroll contributions and will start at 50 percent of an employee's weekly wage up to the statewide average.
New Jersey law allows new parents to receive two-thirds of their average weekly wage for up to six weeks during a 12 month period or until benefits equal to one-third of total wages during their base year, whichever is less.
In 2013, Rhode Island amended its temporary disability law to include caregivers and new parents. The benefit, funded by an employee payroll tax, allows for up to four weeks paid leave at about 60 percent of one's wages with a maximum weekly benefit of $795 per week.
WORST INDUSTRIES
Traditional "blue collar" jobs remain the weakest for paid family leave. For those working in the service, manufacturing, farming or construction industries, worker access to paid family leave is mostly under 10 percent and stagnant, according to Bureau of Labor Statistics data from 2015 and 2011.
WORST PLACES
The Labor Department says workers in the East South Central region — which includes Alabama, Kentucky, Mississippi and Tennessee — are the least likely to have access to paid family leave. Only about 7 percent of workers in those states had access to paid family benefits, while every other region came in between 10 and 15 percent.
To Learn More:
San Francisco First Place in U.S. to Require Fully Paid Leave for New Parents (by Janie Har, Associated Press)
Lack of Federal Policy for Paid Maternity Leave May Contribute to Decline of Women in U.S. Workforce (by Noel Brinkerhoff, AllGov)
185 Countries Guarantee Paid Family Leave; The 3 that don't: Papua New Guinea, Oman and U.S. (by Noel Brinkerhoff, AllGov)