Outside Groups Pour $120 per Voter into Alaska Election…So Far
Thursday, October 30, 2014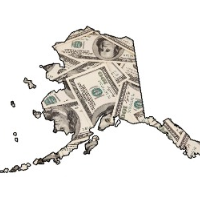 (graphic: Steve Straehley, AllGov)
The fight for control of the U.S. Senate has pushed campaign spending in some states to ludicrous proportions. Take Alaska, for example.
First-term Democratic Senator Mark Begich is considered vulnerable to losing his seat, so the Republicans and their supporters have poured millions of dollars into advertising to help GOP challenger and state Attorney General Dan Sullivan win next month.
The Republican spending, of course, provoked Democrats to counter with their own enormous campaign war chest to defend Begich.
The result: independent groups from both sides have spent at least $36 million on the race—in a state with only 490,000 registered voters. About 280,000 of those are considered to be likely voters.
The spending averages out to about $120 per likely voter, according to the Sunlight Foundation. And that figure doesn't or can't account for the actual amount that's gone into the election from third party interests. "That's because 'issue' ads that air more than two months before an election and stop short of directly urging a vote for or against a candidate don't have to be reported at all," the Sunlight Foundation's Peter Olsen-Phillips wrote.
The biggest spender on Begich's side is the Put Alaska First Super PAC, which has put nearly $10 million toward his victory. On Sullivan's side, the Karl Rove Super PAC American Crossroads has spent about $4.4 million.
So much money is being spent on the Senate race that it's crowding other candidates off the airwaves. Republican gubernatorial candidate Sean Parnell has found it difficult to buy television time to get his message out.
-Noel Brinkerhoff
To Learn More:
Outside Groups Spend at Least $120 per Alaska Voter (by Peter Olsen-Phillips, Sunlight Foundation)
Outside Money Floods Alaska in Senate Race (by Jeremy W. Peters, New York Times)
Alaska Senate Race: Outside Groups Spending Money in this Race (Center for Responsive Politics)
Outside Political Money Groups Seen as "Shadow Party" that Supplants the Candidates Themselves (by Noel Brinkerhoff, AllGov)