Outside Political Money Groups Seen as "Shadow Party" that Supplants the Candidates Themselves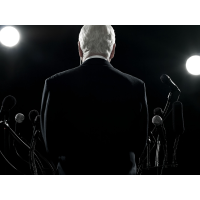 (photo: Getty Images)
Spending by outside political groups has grown so large this election that politicians running for Congress find themselves playing second fiddle while these shadowy organizations dictate the messages bombarding voters.
Overall, money pouring into television advertising for congressional campaign spots is expected to eclipse $2 billion this year. The number of commercials appearing on TVs across the country is expected to increase 70% over the midterm elections of 2010.
"By November, swing voters won't know whether they're voting for a Republican or saving themselves 15 percent or more on car insurance," said Will Ritter, co-founder of Poolhouse Digital, a Republican ad firm.
The money and ads produced by so-called independent groups supporting Republicans and Democrats have become the force driving races, much to the dismay of election watchdogs.
"They have become a shadow party that's effectively impossible to dislodge, and they will shape, if not control, the dialogue in key races and therefore nationally," Sheila Krumholz, executive director for the Center for Responsive Politics, told The New York Times. She added that regardless of who wins this year, the dominance of these groups can be expected to continue in future elections. "All of this sets the stage for 2016," Krumholz said.
As for the candidates, many of them find themselves trying to run their campaigns having already been defined in terms of positions and philosophy by the outside groups.
"It makes it harder for the campaign to control the message," Will Feltus, senior vice president for research and planning at National Media Inc., a Republican media-buying company, told the Times. "Somebody else can set the message agenda for the campaign."
The biggest spenders to date are the Koch brothers' funded Americans for Prosperity ($44 million), the Democrats' Senate Majority PAC ($22 million), and the business-oriented U.S. Chamber of Commerce ($17 million). Combined, they have dumped more than $80 million into congressional races.
Although Democrats and their supporters spent relatively little on such buys in 2010, they're jumping in with both feet for 2014, getting help from groups such as House Majority PAC, Patriot Majority USA, and Put Alaska First PAC, which have spent a combined $14 million on media buys, according to the Times.
-Noel Brinkerhoff
To Learn More:
Outside Money Drives a Deluge of Political Ads (by Ashley Parker, New York Times)
How 2014 Is Shaping Up to be the Darkest Money Election to Date (by Robert Maguire, OpenSecrets.org)
Koch Brothers Spent more on 2012 Election than Top 10 Unions Combined (by Noel Brinkerhoff, AllGov)
Outside Campaign Spending Surpasses 2008…With 8 Weeks to Go (by Noel Brinkerhoff, AllGov)
Forget Super PACs; Big Campaign Financing is Coming from "Social Welfare" Nonprofits (by Noel Brinkerhoff and David Wallechinsky, AllGov)
Unregulated Outside Spending Wins Elections: 2010 Edition (by Noel Brinkerhoff and David Wallechinsky, AllGov)