New Super PAC Spends Big Money to Fight Big Money in Politics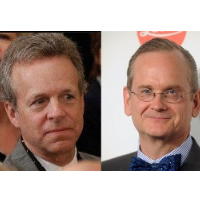 Mark McKinnon, Lawrence Lessig (photos: AP, Getty Images)
If you can fight fire with fire, as the saying goes, then why not fight big money with big money in the world of elections?
That's what a coalition of liberals, Republicans and wealthy donors have decided in creating a super PAC called Mayday, which plans to spend millions of dollars helping elect politicians.
How is that different from other super PACs? The people behind Mayday say their money ($12 million to start) will go to candidates who support legislation to reduce the influence of big donors in campaigns.
Two of the super PAC's founders are Lawrence Lessig, a professor at Harvard Law School who co-founded the Creative Commons licensing site, and Mark McKinnon, a former adviser to President George W. Bush.
"Inside-the-Beltway people don't think this issue matters, they don't think voters vote on the basis of this issue, and they advise their politicians not to talk about it," Lessig told The New York Times. "We think this issue does matter, and we want to prove it."
Lessig says he's aware of that spending millions to reduce the power of other people's millions in elections might seem curious, to say the least. Which is why he tells people to "embrace the irony" of Mayday's mission.
First off, the group is plunking down $4 million to support candidates in New Hampshire and Iowa, where voters tend to like campaigns that are anti-big money.
Jim Rubens, a former Republican state senator, will receive Mayday's support in his attempt to beat Scott Brown, the former U.S. senator from Massachusetts, in the GOP primary in September for the right to face Democratic incumbent Jeanne Shaheen in the race for New Hampshire's U.S. senate seat.
In Iowa, Democrat Staci Appel, a former state senator, is getting the PAC's help while seeking to win the state's Third Congressional District, which will be open because of the retirement of Rep. Tom Latham (R).
-Noel Brinkerhoff
To Learn More:
Spending Big to Fight Big Donors in Campaigns (by Nicholas Confessore, New York Times)
How to Use a Super PAC to Kill Super PACs (by Brian Fung, Washington Post)
Secret Donors Dominating This Year's Election Campaign Ads (by Noel Brinkerhoff, AllGov)
$63 Million Fills Super PAC War Chests for 2014 Federal Elections, with Democrats Well on Top (by Noel Brinkerhoff, AllGov)