Secret Donors Dominating This Year's Election Campaign Ads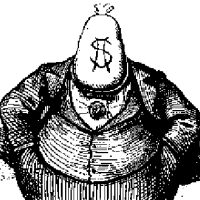 (graphic: Thomas Nast)
Nearly 60% of the campaign ads aired this year by independent expenditure groups have been funded by secret donors, according to an independent analysis of campaign spending.
The Wesleyan Media Project and the Center for Responsive Politics found 59% of group-sponsored commercials related to Senate races were paid for with "dark money"—the term used for funds spent by certain organizations (501c3, 501c4 and 501c6 as classified by the Internal Revenue Service) that aren't required to disclose the identities of their contributors.
The rate was nearly the same for ads for House races: 57%.
"The 2014 campaigns are currently dominated by interest group advertising," Erika Franklin Fowler, co-director of the Wesleyan Media Project, said. "And the bulk of the interest group money is coming from dark money groups who don't disclose their donors."
The research shows more than $43 million has already been spent on nearly 110,000 television ads focused on Senate campaigns. The total number of ads represents a 45% increase over commercial airings at this point in the cycle in 2012.
Republicans have benefitted more from the dark money ads than Democrats. About 67% of ads by outside groups favored GOP Senate candidates, while only 49% supported Democratic Senate candidates.
-Noel Brinkerhoff
To Learn More:
Interest Group Advertising Pours Into Senate Races (Wesleyan Media Project)
Testimony of the Center for Responsive Politics before the Senate Senate Committee on Rules and Administration (OpenSecrets.org) (pdf)
Why Dark Money is Likely to Keep Flowing in Campaigns, in 1 Senate Hearing (by Matea Gold, Washington Post)
3 Anonymous Americans Gave $50 Million to Karl Rove's Super Pac; 5 Anonymous Donors Funded Most of Pro-Obama PAC (by Matt Bewig, AllGov)
Secret Campaign Donors Overwhelmingly Attack Democrats and Support Republicans (by Matt Bewig, AllGov)