Nationwide, State and Local Governments Give more Money to Wealthy School Districts than to Poor Ones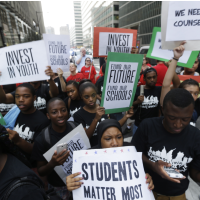 Philadelphia demonstrators in 2013 call for increased public school funding (photo: Matt Rourke, AP)
As a nation, the United States at state and local levels spends more money in support of wealthy school districts than poor ones, according to data released by the U.S. Department of Education (ED).
On average, the country is spending 15% less per pupil in the poorest school districts ($9,270 per child) than in the most affluent ($10,721 per child), The Washington Post reported.
The disparity also is visible in 23 states that have favored rich school districts over struggling ones. Pennsylvania has the distinction of having the largest gap between rich and poor districts (33%), while Colorado (0.2%) has the smallest among the 23 states.
Education Secretary Arne Duncan told the Post that the federal data shows "we have, in many places, school systems that are separate and unequal." He called this reality in which poorer districts lag behind in state and local funding "unconscionable."
The good news is the federal government can act as an equalizer by providing additional resources for education. The same statistics show that when funding from Washington is factored in, only five states are spending less in their poorest districts than in their wealthiest: Pennsylvania, Vermont, New York, Virginia and Nevada. Two of the states where there has been the biggest impact from federal spending are Indiana (where expenditures have been 25% higher than in wealthier districts) and Minnesota (21% higher).
"Nationwide, the average disparity drops from 15 percent to less than 2 percent," Emma Brown reported at the Post.
Many states provide education funding to poorer communities, but it's not enough to close the gap.
The federal data is based on information from the U.S. Census Bureau, supplemented by figures reported by school districts. It was released by the National Center for Education Statistics, a division of the Institute of Education Sciences, the research arm of the ED.
-Noel Brinkerhoff
To Learn More:
In 23 States, Richer School Districts Get More Local Funding Than Poorer Districts (by Emma Brown, Washington Post)
How Spending Differs Between the Nation's Poorest and Most Affluent School Districts (by Emma Brown, Washington Post)
Student Financial Aid Sending More Money to Wealthy Families (by Noel Brinkerhoff, AllGov)