Making a Profit from Detaining Immigrants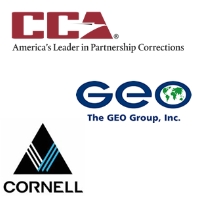 Cracking down on illegal immigrants not only wins points with angry voters, but also boosts the bottom-line of private prison corporations. With the Immigration and Customs Enforcement (ICE) agency capturing thousands of undocumented workers each year, and only capable of housing 13% of them in its own detention centers, ICE has turned to private contractors to imprison those awaiting hearings or deportation. ICE holds an estimated 380,000 people in detention while waiting for hearings, bail or deportation.
Private prisons can make an average of $200 a day per detainee from ICE. Some detainees can spend upwards of a year in a CCA or other private facility until they're deported by ICE.
-Noel Brinkerhoff