Loophole in Enforcement of "Living Wage" Laws: State Governments Kept in Dark on Compliance
Wednesday, April 27, 2016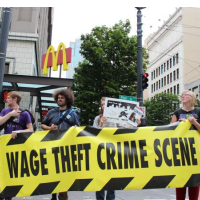 (photo: AFL-CIO)
By Donna Gordon Blankinship, Associated Press
SEATTLE (AP) — States and cities whose lawmakers proudly passed "living wage" laws are finding it difficult to make sure employers actually pay their workers accordingly.
Seattle and San Francisco, and the states of Oregon, California and New York are phasing in wage increases that will grow to $15 an hour or more.
Evidence of compliance is plain to see in the hours-worked total on most pay stubs, but state and federal laws don't require employers to routinely provide this crucial detail to the government. Without this data, wage enforcers who are empowered to investigate generally wait until a worker complains.
And many workers — especially those in precarious situations — fear they'll be fired if they speak up.
"It's pretty shocking how common the violations are," said Donna Levitt, director of the labor enforcement office in San Francisco, which began ramping up to $15 an hour last year. Her office has recovered more than $10 million in back wages since 2004.
The new laws are meaningless without proactive enforcement, labor advocates say, citing research that shows roughly one in four businesses nationwide already cheat their workers out of minimum wages.
"It's just so pervasive and so rampant," said Haeyoung Yoon of the National Employment Law Project.
Her group advocates higher fines to give employers more incentives to follow the laws, along with tougher enforcement nationwide.
"There's just not enough boots on the ground to wipe it out, because the problem is so enormous," Yoon said.
Without a proactive approach, officials aren't even sure how many violators are out there.
"We often get the question: What's the compliance rate?" Levitt said. "We have no idea."
Enforcement is expensive, but some state and local officials and advocates envision recovering the costs of investigations through higher fines, or anticipating more revenue as more people are paid their legal wages.
Some employers simply ignore or misunderstand these minimum wage laws. Others deliberately underestimate the hours their employees work, or require them to work unpaid and off-the-clock.
Tiny SeaTac, Washington, has effectively outsourced enforcement to the courts since it became the nation's first city to require wages of $15 an hour or more in 2014.
More than a dozen class actions were filed this year on behalf of workers in and around Seattle-Tacoma International Airport. Attorney Duncan Turner estimates the total owed them in back wages, overtime, related benefits and potential penalties could add up to $62.5 million.
"We want to see justice for all of the workers," he said.
In Seattle and San Francisco, most violators have come to the cities' attention through employee complaints.
Investigators then examine pay records for all employees at the business, to protect the complainant and because they assume the problem affects more than one worker, said Dylan Orr, director of Seattle's labor standards office.
In the past year alone, Seattle has investigated 106 businesses and completed cases against 23 others, levying fines and payment of back wages totaling more than $172,000. They ranged from restaurants to retail stores to larger companies providing cleaning services.
Many weren't aware of the wage law's details, but others were simply taking advantage of their employees, many of whom are immigrant workers, Orr said.
A strip club called Pandora's Adult Cabaret became one of the first businesses in Seattle forced to pay thousands of dollars in back wages to employees under the new law. Owner Joe Walker blamed the $3,200 mistake on his payroll company, which he said was "out of touch with the real world."
San Francisco has examined 40 complaints during the same time period — a much smaller caseload in a city with more businesses. Officials suspect that's because San Francisco has long had its own minimum wage requirements and Seattle has not.
Authorities are moving to a more proactive enforcement posture in some places.
Seattle is adding five investigators to its enforcement team and looking at ways to find violators before employees turn them in. Oregon lawmakers have allocated money for three investigators, who will likely focus on any industry showing a pattern of wage violations, Labor Commissioner Brad Avakian said.
The enforcement of California's new minimum wage law, meanwhile, is provided for under an existing state law authorizing proactive investigations of industries with a history of breaking labor laws.
New York's Labor Department plans to wait for workers to turn in their employers, and will represent the employees in court if the department can't persuade the businesses to pay up.
Some worry such passive approaches won't reach all workers.
"It's hard to stand up to someone who has power against you," said Nicole Keenan, who directs the Fair Work Center, a nonprofit Seattle hired to educate people about the new wage requirements. "When we give a presentation, about half the people in the room say their rights have been violated."
To Learn More:
Minimum Wage Activists Hope that California and New York Successes Will Spread to Other States (by Jennifer Peltz and David Klepper, Associated Press)
New State Minimum Wage Laws will Force Walmart to Raise Salaries in 1/3 of Stores (by Steve Straehley, AllGov)
Feds Find "Alarming" Minimum-Wage Violations in California and New York (by Ken Broder, AllGov California)
Lawsuits Accuse Major Employers of Squeezing Extra Dollars out of Low-Wage Workers (by Noel Brinkerhoff and Steve Straehley, AllGov)