Lawsuits Accuse Major Employers of Squeezing Extra Dollars out of Low-Wage Workers
Tuesday, September 02, 2014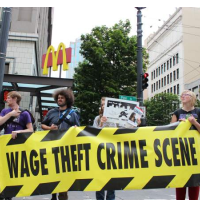 (photo: AFL-CIO)
Companies in the service and shipping industries have been accused of "stealing" wages owed to workers, prompting multiple lawsuits against these businesses.
Schneider, a national trucking company, was sued by hundreds of its employees for labor violations, including not paying overtime even after some workers clocked 70 hours in a week. The business has agreed to pay $21 million to settle the matter.
Fedex was sued in California because its drivers are classified as independent contractors to avoid paying overtime. The company lost its case, but is now appealing the ruling.
Seven lawsuits have been filed against McDonald's and several of its franchises over "wage theft" claims in which workers say they "were cheated out of overtime, had hours erased from timecards and had to work off the clock," according to The New York Times.
The newspaper's Steven Greenhouse reports "more companies are violating wage laws than ever before, pointing to the record number of enforcement actions they have pursued. [Government officials] complain that more employers — perhaps motivated by fierce competition or a desire for higher profits — are flouting wage laws."
The victims of wage theft are often undocumented immigrants who frequently don't know their rights, including the ability to file complaints with the Department of Labor, according to Latin Post.
An investigation by a California labor commissioner found a janitorial company had told workers to sign blank time sheets so managers could "record inaccurate, minimal hours of work." The company has been ordered to pay more than $332,600 in back pay and penalties to 41 workers who cleaned 17 supermarkets.
A common thread through many wage theft cases is that the employers are often subcontractors or franchisees, rather than the big companies named in lawsuits, enabling corporations such as Schneider and McDonald's to claim they knew nothing of the illegal practices.
These workarounds by big business might soon be coming to an end. Last July, the National Labor Relations Board ruled that McDonald's is a joint employer, along with its franchisees, for the purposes of worker complaints about unfair labor practices.
-Noel Brinkerhoff, Steve Straehley
To Learn More:
More Workers Are Claiming 'Wage Theft' (by Steven Greenhouse, New York Times)
Employers Steal $1 Billion in Wages Each Year from NYC Food Service Workers (by Nicole Akoukou Thompson, Latin Post)
Wage Theft: How Employers Steal Millions from American Workers Every Week (by Michael De Groote, Desert News)
For Largest U.S. Companies, Jobs Growth Has Lagged Profits, Revenues (by Howard Schneider, Reuters)
Low-Paying Jobs Get Even Lower (by Noel Brinkerhoff, AllGov)
Ripped off Low-Paid Workers Are Also Cheated out of Legal Judgments (by Ken Broder, AllGov California)
Labor Board Rules McDonald's May Be Joint Employer of Its Franchise Operations and Liable for Labor Violations (by Noel Brinkerhoff, AllGov)