Little-Known Law Requiring Minimum Number of Immigrant Detainees Leads to Massive Spending Increase
Wednesday, October 16, 2013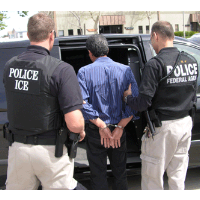 Backed by House Republicans, an obscure 2006 mandate has required that federal authorities now keep an average of 34,000 immigrants a day locked away. This anti-immigration measure has cost the government hundreds of millions in tax dollars, and forced the Immigration and Customs Enforcement (ICE) to detain immigrants who pose little or no threat to the nation.
The so-called "bed mandate" was adopted seven years ago at the insistence of conservatives who argued that ICE wasn't doing enough to deport illegal immigrants. Since then, the agency has broken records for immigration arrests, even as the overall number of illegal crossings from Mexico has declined in recent years.
Nick Miroff at The Washington Post wrote that "ICE has been meeting Congress's immigration detention goals by reaching deeper into the criminal justice system to vacuum up foreign-born, legal U.S. residents convicted of any crimes that could render them eligible for deportation. The agency also has greatly expanded the number of undocumented immigrants it takes into custody after traffic stops by local police."
This means the majority of detainees are not violent offenders, critics argue. And while many are set free by immigration judges, the detainees wind up spending long periods in federal custody—at a daily cost of $120 per person.
"People are being kept in detention–in many cases for weeks or months at a time–without consideration for the individual circumstances," Denise Gilman, co-director of the Immigration Clinic at the University of Texas law school in Austin, told Bloomberg. "This is being done at a tremendous financial cost to taxpayers and a tremendous human cost to families."
The Department of Homeland Security (DHS), which oversees ICE, suggested earlier this year during the sequestration debate that Congress reduce the "bed mandate" after years of it being raised again and again. DHS said a lower total of 31,800 detainees would cut down spending on immigration detention and deportation, which now consume $2.8 billion annually.
GOP lawmakers objected, however. They responded by setting the mandate at 34,000 detainees and ordered ICE to spend nearly $400 million more than the agency requested.
-Noel Brinkerhoff
To Learn More:
Controversial Quota Drives Immigration Detention Boom (by Nick Miroff, Washington Post)
Congress Mandates Jail Beds for 34,000 Immigrants as Private Prisons Profit (by William Selway and Margaret Newkirk, Bloomberg)
Private Prisons Punish States for not Having Enough Prisoners (by Matt Bewig, AllGov)