Justice Department Announces $20 Million Grant for Body Cameras
Tuesday, September 27, 2016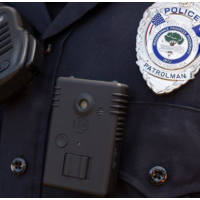 Credit: Getty Images
By Andrew DeMillo, Associated Press
LITTLE ROCK, Ark. — The Justice Department announced Monday it's awarding more than $20 million for law enforcement agencies around the country to establish or enhance their use of body cameras, a move that comes after several fatal shootings of black men by police that have prompted widespread protests.
Attorney General Loretta Lynch announced the grant at the opening of a Justice Department summit in Little Rock focused on reducing violent crime. The department said the grants will be awarded are being awarded to 106 state, city, tribal and municipal law enforcement agencies.
"Of course, even as we strive to support local leaders and our law enforcement partners in their work to protect their communities, we are mindful — we know, we see every day — that effective public safety requires more than arrests and prosecutions," Lynch said. "Because It also requires winning, and keeping, the trust and the confidence of the citizens we serve."
Lynch didn't directly address the recent shootings of black suspects by police in Tulsa, Oklahoma, or Charlotte, North Carolina. The Tulsa district attorney's office last week charged Officer Betty Shelby with first-degree manslaughter in the death of Terence Crutcher. Police released aerial and dashboard video from the shooting, but did not have any body camera footage. Tulsa police officers don't have body cameras, although they were selected to receive a nearly $600,000 cash-match grant for them in 2015.
Charlotte police over the weekend released dashboard and body camera footage from the fatal shooting of Keith Lamont Scott. Neither that footage, nor cellphone video captured by Scott's wife, show conclusively whether Scott had a gun in his hand before he was shot as police have said. Lynch touted the grants as a way to promote cooperation between police and the community.
"There is no doubt that these are challenging times for law enforcement and communities alike," Lynch said. "Where the relationship of trust has frayed and frankly broken, we see the mistrust within the community; we also see the underlying fear within many of our friends and neighbors that when they are threatened by violence, they will have no one to call."
Lynch also announced the department is giving more than $33 million to 28 jurisdictions to help them inventory, test and track backlogged sexual assault kits.
To Learn More:
The Clash over Police Body Cameras Heats Up (by Danny Biederman and Noel Brinkerhoff, AllGov)
Police Dept.'s in Two States Cancel Use of Body Cameras, Citing Video Storage Costs (by Rick Callahan, Associated Press)
Who's Profiting from Police Body Cameras? The Company that Makes Taser Guns (by Noel Brinkerhoff, AllGov)