Fighting Caps on Military Budget, Top Defense Contractors Increase Lobbying Budget by 25%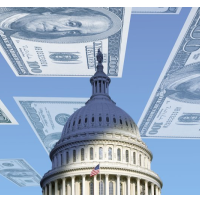 (photo: Getty)
The halls of Congress were filled with defense lobbyists last spring trying to convince the Republican majorities to lift the budget cap on the Department of Defense.
Companies such as Boeing, General Electric, General Dynamics, Lockheed Martin and many others ramped up their spending on lobbying, increasing their budgets by 25% in an effort to push Congress into giving the Pentagon more money in the coming years. The Center for Public Integrity reported that "an army of more than 400 lobbyists" invaded Capitol Hill to urge increased spending on military hardware.
The center said total lobbying expenditures by the 53 top defense contractors was up to $58.5 million during the second quarter of this year, compared to $45.7 million during the same period in 2014.
Boeing and General Electric bumped their budgets the most among the 15 defense contractors who spent $1 million or more, according to the center. General Electric's lobbying budget went from $2.8 million to almost $8.5 million, while Boeing's more than doubled from almost $4.2 million to $9.3 million.
"General Dynamics paid for 74 lobbyists, more than any other contractor, for example, and 70 of these lobbied on defense, part of its $2.7 million lobbying tab," Alexander Cohen wrote at the Center for Public Integrity. "Lockheed Martin Corp., the world's largest defense contractor, spent $3.5 million and enlisted 64 lobbyists to press government officials, including 56 who lobbied on defense as well as other issues."
Defense contractors are upset that the Pentagon's budget was only $496 billion in fiscal year 2015, down from $528.2 billion in 2011. The decline was mandated by budget controls approved by Congress during the push to cut government spending.
Had it not been for the budget controls, the Pentagon budget was expected to reach $598 billion by now.
-Noel Brinkerhoff
To Learn More:
Top Defense Contractors Spend Millions to get Billions (by Alexander Cohen, Center for Public Integrity)
Defense Firms Expect Increased Spending from Republicans as Republicans Decry Increased Spending (by Lee Fang, The Intercept)
Top 100 for 2015 (DefenseNews)
Defense Contractors Whine about Bill Limiting Executive Pay and Helping Small Businesses (by Noel Brinkerhoff and David Wallechinsky, AllGov)
Is Money Wasted on Nuclear Weapons being Driven by Lobbyists? (by Noel Brinkerhoff, AllGov)