FEC Ruling on Presidential Convention Contributions Sidesteps Party Donation Limits
Saturday, October 11, 2014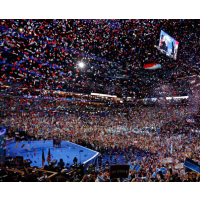 Republican National Convention, 2012 (AP photo)
The two major political parties agree on very little so when Republicans and Democrats presented a united front on an issue, it wasn't surprising that their goal was to put more money in their pockets.
The Federal Election Commission (FEC), in response to a joint letter from Democratic and Republican national committees, agreed recently that the parties may set up separate committees to fund their quadrennial conventions and allow supporters to make donations that don't count against the annual limit.
Before the ruling, donors could give up to $32,400 each year to a party committee. Now an additional like amount may be given to a committee set up to fund the nuts and bolts of putting on a convention.
The parties claimed the change was needed because federal convention funding was redirected to pay for pediatric disease research at the National Institutes of Health. That funding—about $18 million in 2012 for each party—covered only a small fraction of the conventions' expenses. Now parties will be able to raise much more from their donors.
The Campaign Legal Center fought the request, sending a letter (pdf) opposing it to the FEC. "With this request, the National Party Committees continue their relentless and outrageous quest to get the Federal Election Commission to eviscerate the hard money contribution limits bit by bit by creating separate limits to fund the activities of the National Party Committees," the letter read. Now that the parties' request has been approved, the Campaign Legal Center's Larry Noble was quoted in The Washington Post saying the decision was "disgraceful" and that it could lead to other committees being set up for different party tasks such as voter registration, each with its own donation limit.
FEC Chairman Lee Goodman defended the vote, saying it would give special interest groups less influence, according to the Post. "I want to strengthen them so when big special interest groups and super PACs drop money into a race, a politician can turn to his or her own political party to have his or her back," he said.
That ship sailed two years ago. The Democrats had pledged that their 2012 convention in Charlotte, North Carolina, would be put on without corporate donations. However, the party ended up taking money from Bank of America, Duke Energy, AT&T and other corporations to fund the event.
-Steve Straehley
To Learn More:
FEC Says Convention Donations Will Not Count Against Cap on Party Contributions (by Matea Gold, Washington Post)
Federal Election Commission Allows Parties to Form New Committees to Fund Political Conventions (by Sabrina Eaton, Plain Dealer)
National Committees' Letter to FEC (pdf)
Objection to Committees' Request (pdf)
Which Companies Helped Fund the Democratic and Republican Conventions? (by Noel Brinkerhoff, AllGov)
Duke Energy Gives Democratic National Convention $10 Million Line of Credit (by Noel Brinkerhoff, AllGov)